above: Students at Whitefish Middle School examine energy use at their school.
by Mariah Gladstone
As Whitefish writes its Climate Action Plan, efforts have been made to gather and incorporate feedback: what do you want to see the city do to prepare our community for the effects of climate change?
However, even in a town as progressive as Whitefish, the folks giving feedback will likely not see the impact. Events on alternative energy, recreational impacts, local food disruption, and the Climate Action Plan itself, have all been predominantly attended by the same crowd. While their involvement is important, the city has had trouble collecting feedback from young people.
Interestingly enough, the students in Whitefish are passionate about reducing their carbon footprint and living more sustainable lives. While attending a Free Flow club meeting at Whitefish High School, I watched the students debate which t-shirts they wanted to buy for the club that year. Their product questions were not focused on comfort or appearance but rather aimed at sustainability and human rights. "Are those shirts made with organic cotton?" "Are the makers paid a living wage?"
Though the scene comically resembled something out of Portlandia, it was still poignant. Being under 18, the students were voting for their values in the only way they could; with their wallets. As Whitefish looks towards the future, the city attempts to work with the schools in a manner that will allow the students to reflect their opinions in the CAP.
I had the unique opportunity to work with math and science students at the middle and high school in order to formulate strategies for reducing water and energy use. I presented them with the data from their schools and asked them to decide what adjustments should be made. Their goals for sustainability were far beyond the expected. For example, they saw the amount of water going towards irrigation and suggesting replacing the lawn with native plants and their fields with AstroTurf. As kids of the 21st century, they have grown up in a world that sees the footprint they leave; they want to minimize their footprint.
Spending time with progressive-minded students looking for better solutions ensures I am always disappointed when I must return to the world of adults to argue politics. The students give me hope for the future of the city even when the adults do not.
_______________________________________________________________________________________________________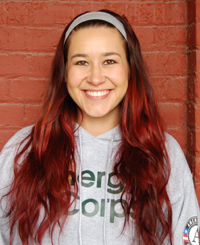 Mariah Gladstone holds a bachelor's degree in Earth and Environmental Engineering with a concentration in Sustainable Energy and Materials from Columbia University. Prior to Energy Corps, Mariah founded Indigikitchen to use digital media to teach about traditional Native foods. Mariah joined Energy Corps in October 2017 and will serve in the City of Whitefish as a Sustainability Educator. She will assist in completing and implementing their Climate Action Plan and assess the feasibility of a solar array for the city's new wastewater treatment plant. Additionally, she will help the Whitefish School District adopt a Green Ribbon curriculum and work with students to finish the new Center for Sustainability and Entrepreneurship.