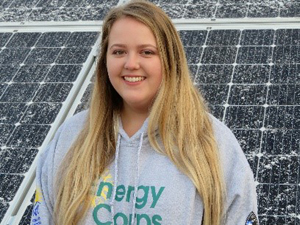 Lindsey Bales graduated in 2017 from Sonoma State University with a Bachelor of Science in Environmental Studies and Planning with a concentration in Energy Management and Design. While in school, Lindsey was an Energy Specialist with Rising Sun Energy Center and an Energy and Sustainability Intern for the City of Santa Rosa. After graduating, Lindsey earned the LEED® Green Associate™ credential and received a Climate Change Professional Certificate from Skyline College after completing a Climate Corps Energy Conservation Fellowship with the City of San José. This year Lindsey will be serving with the National Center for Appropriate Technology as the Energy Corps Team Leader. She will expand program awareness and provide support through team building, mentorship, and project coordination.
---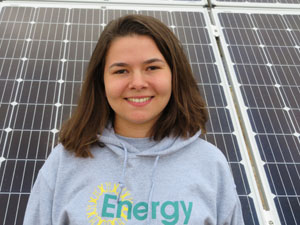 Sian Beck Is a recent graduate from Pacific Lutheran University with a Bachelors of Science in Mathematics and a Bachelors of Arts in Environmental Studies. Sian has previously worked for service-based non-profit, organizing construction, environmental, and other community service projects where she has coordinated with middle school, high school and adult volunteers. Sian will be serving as a sustainable educator in Glacier National Park, building on current sustainability efforts and providing education and training to park staff, partners and visitors.
---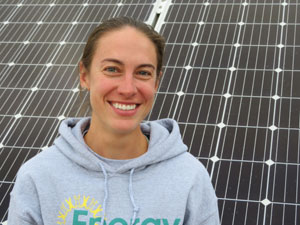 Liz Bronson Is in the process of completing her Master's degree in Resilient and Sustainable Communities from Green Mountain College in Vermont. This past year she served with AmeriCorps as an Education and Outreach Assistant at the Tahoe Environmental Research Center in Incline Village Nevada. This year Liz will be assisting the Outreach Coordinator and Eastern Field Representative with promoting environmental stewardship and engaging communities, schools, and partners in opportunities that help develop and connect community stewards, support sustainable environmental education and restore/protect wildlife habitat.
---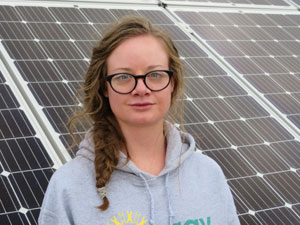 Carly Campbell Graduated from the University of Montana with a Bachelors of Art in History and a minor in fine arts. She has been focused on combining the skills obtained from her education and incorporating those skills with various outreach programs; which she has archived through the Aldo Leopold Wilderness Institute to teaching interpretive classes at Travelers' Rest State park through AmeriCorps. Carly will be serving this year with the University of Montana and St. Patrick Hospital to further their sustainable energy practices. Carly is excited to be serving a second term with AmeriCorps.
---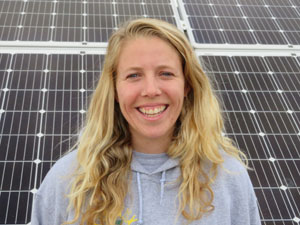 Miranda (Andie) Conlon graduated from Santa Clara University in 2017 with a Bachelors of Science in Environmental Science with a concentration in Applied Ecology. After graduating, Andie spent the 2017-2018 school year working as a Naturalist Intern at Sierra Outdoor School, educating children in the fields of conservation, ecology, and biology. Most recently, Andie has worked as an intern in the Elephant Department at Wildlife Safari in Oregon, where she performed husbandry, behavioral training, and public education. This year Andie will be serving with the National Wildlife Federation to promote sustainability and environmental stewardship by engaging with local communities and schools. There will be a particular focus on the NWF's Eco-School program and Garden for Wildlife program.
---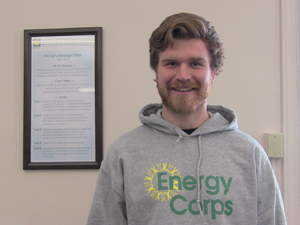 Curran Edland graduated in 2017 from Robert Morris University with a Bachelor's in Mechanical Engineering. In August of 2018 he started interning for Climate Smart Glacier Country where he focused on community outreach, climate education, and managing the group's social media. As an Energy Corps member, Curran will work with the City of Whitefish, Whitefish School District, and Climate Smart Glacier Country to research community energy use to address climate change at a local level and creating solutions towards lowering our environmental impact.
---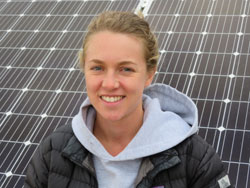 Kathryn Eklund graduated in 2017 from Eckerd College with a degree in Environmental Studies and Anthropology. This will be Kathryn's second year serving with the city of Red Lodge where she has previously run energy efficiency and renewable energy projects for the city. Before AmeriCorps, Kathryn worked with an environmental consulting firm and the Wyoming Wilderness Association. Kathryn has already set goals for this upcoming year as she is working toward streetlight retrofits, a solar panel for the library, and a solarize campaign for the city of Red Lodge, MT.
---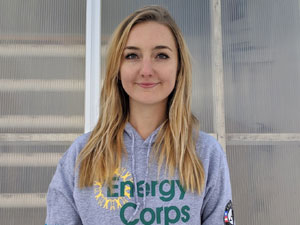 Melissa Englund graduated with a degree in Sustainable Business from Aquines College in Michigan and went on to be a research intern with the Public Interest Network Group. She also worked at an energy efficiency company as a marketing and outreach assistant in the Chicagoland area. In October of 2018, she was an environmental conservation volunteer in New Orleans. As an Energy Corps member, she will be researching community sustainability and climate resiliency practices in order to create a guide for rural communities.
---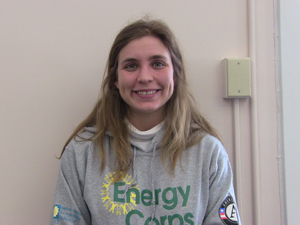 Kalle Fox graduated Skidmore College in May of 2018 with a Bachelor's degree in Anthropology. She became interested in environmental stewardship and sustainable development after spending a semester abroad in Iceland for a climate change program. Since then, she has interned for Skidmore's sustainability office to gather data on the dinning services food purchases and the percentage of sustainability each month. She spent the summer after college working for Conservation Corps in Vermont as a trail crew member. As an Energy Corps member, she will be assisting the LIHEAP Clearinghouse Director in identifying and developing training sessions and materials for LIHEAP grantees by conducting surveys and focus groups.
---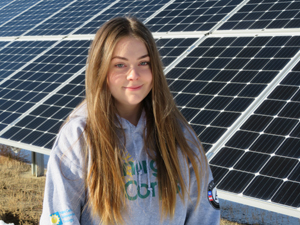 Noelle Herring received a Bachelor of Science in Environmental Economics and Management from Mississippi State University. While in school, she worked with the Birmingham Botanical Gardens to facilitate fun and educational activities for children interested in learning more about nature. She also held a range of jobs including: working with foreign students to practice their English skills and intercultural communication, helping the local wildlife refuge maintain beautiful hiking trails, and preparing relief materials to be shipped to those in need anywhere in the world. This year, Noelle will be working with Home ReSource through their Zero Waste Ambassadors Program (ZWAP!) to educate and provide learning activities about zero waste and sustainability awareness in Missoula County Public Schools. She will coordinate and plan efforts to guide MCPS and the community to integrate the Zero Waste Plan into their daily routines.
---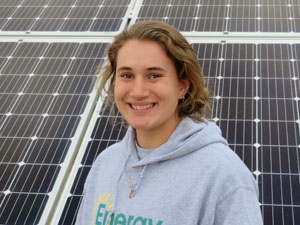 Claudia Hewston graduated from the University of Providence, Great Falls Montana, where she earned her Bachelors of Science in Biology with a concentration in Wildlife. While attending the university Claudia conducted a senior research project, where she observed how tadpoles affected water quality and how those influences were affected by temperature increases. Claudia has worked in a number of jobs ranging from various field technician positions to working as a head cook at Rocking Z guest ranch. This year Claudia will be serving her first AmeriCorps term as the Montana SMART Schools Coordinator, she will be working with schools across the state of Montana on Energy Efficiency, Greening, and Recycling projects.
---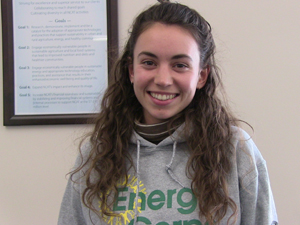 Becca Holdhusen grew up in northwestern Montana before going on to study Conservation Biology at Middlebury College in Vermont. While in college, she spent a semester studying natural history and conservation in Chilean Patagonia. Outside of college, Becca has worked for the National Parks Conservation in Montana doing GIS and cartography work. She has also completed an AmeriCorps term of service in Jackson, WY serving as an outdoor educator at Teton Science Schools. As an Energy Corps member, she will be conducting community outreach to increase awareness of energy and other services. She will also cultivate and facilitate partnerships with rural communities to increase access to resources to meet their needs.
---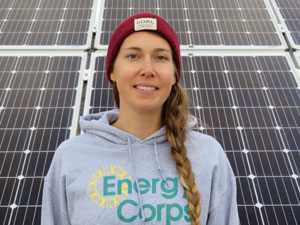 Heather Leach graduated in 2009, she has a degree in Environmental Sciences with a focus on Environmental Design but has held many different positions and had many experiences over the years as she has traveled all around the world and across the US. Heather spent three years in Japan teaching English, volunteered with a couple of non-profits and was a ski bum for a couple of years. Since moving to Montana she has worked to develop her community organizing abilities and has become very interested in getting people interested in the health of their surrounding environment. Heather will be serving with the Clark Fork Coalition to support their education programs and coordinating classroom visits for seasonal programs. She will also be helping with community events and coordinating professional workshops, as well as helping promote the Clark Fork on social media. Heather will be working to help share our citizen science findings and coordinating with partner groups.
---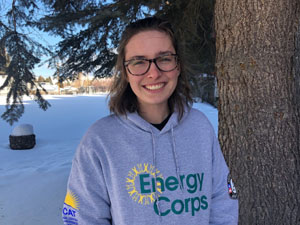 Emma Massick received her Bachelor's degree in Organizational Leadership from Arizona State University in 2017. She has always had an interest in finding ways to help preserve the earth for future generations and is excited to be serving with NCAT to do just that! As the Rural Community Energy Educator, Emma will help develop energy educational material, research new energy saving techniques and tools for rural communities and agriculture producers, and research the Rural Energy for America Program (REAP) to help build an educational toolbox for rural communities interested in exploring REAP.
---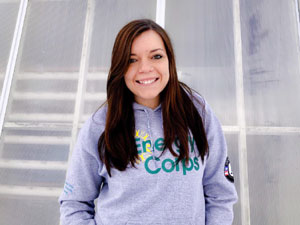 Madelynn Nelson graduated from the University of Northern Iowa in 2018 as a double major in Earth and Environmental Sciences with a minor in Geography and a certificate in Sustainability. While in school, she worked with Green Iowa AmeriCorps as an Environmental Steward working on projects such as: residential weatherization of low-income homes, partnering a food stand with the university student garden and the North East Iowa Foodbank, environmental education with the local YMCA, invasive species removal, and river clean-ups. As an Energy Corps member, she will reach out to Armed to Farm participants to provide technical assistance and help determine sustainable agriculture training and needs for veterans operating sustainable farms.
---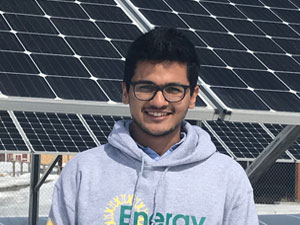 Meet Panchal completed his M.A. in Social Work with a specialization in Livelihoods and Social Entrepreneurship with 2 years of student social work experience. He has worked with marginalized communities and is experienced in carrying out chain-based livelihood analysis and conducting livelihood profiling for a better standard of living. As an Energy Corps member, Meet will organize opportunities for residents to gain energy awareness and assist in education and outreach in communities most affected by energy and climate fluctuations. He will also develop educational material, facilitate hands-on learning, conduct presentations, and organize activities to launch energy efficiency and renewable energy initiatives within the community.
---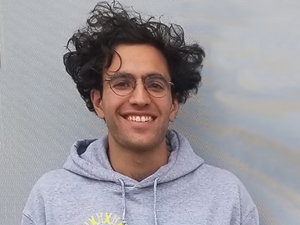 Cameron Tehranchi holds a Mechanical Engineering degree from Northwestern University with a certificate in Energy and Sustainability. As a student, Cameron was involved with urban farming and aquaponics initiatives in the Chicagoland area and led projects to build hydroponics systems at his university. Prior to joining Energy Corps, he worked as a Quality Assurance Engineer at a robotics company in San Leandro, CA. In Livingston, he will be working on energy audits for city and county buildings and lighting, planning for electric vehicle charging stations, and working with the Yellowstone Bend Citizens Council on public outreach.
---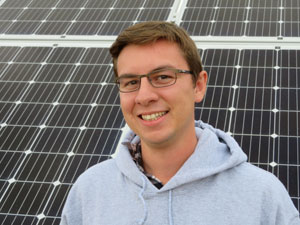 Eliot Thompson holds a degree from University of Illinois at Urbana-Champaign. Prior to Energy Corps, Eliot worked as the Community Development Intern for the City of Monticello, IL. Eliot joined Energy Corps in October 2017 and will serve with Missoula County as a Sustainability Educator. He will work to develop a county resiliency and climate action plan that focuses on county operations and facilities; researching, implementing, and expanding green initiatives, and assisting in building county capacity to tackle energy and climate change issues.
---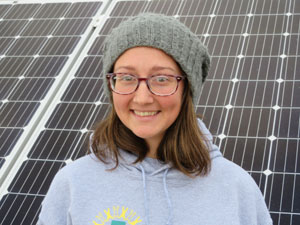 Victorian Tilley recently moved from Mississippi where she obtained a Master's degree in Health Promotion at Mississippi State University as well as her Certified Health and Education Specialist credential. During this time, Victorian worked on a small organic vegetable and cut flower farm and was involved in various community-oriented programs toward building the local food system in that area. A passion for shifting our views of food and our environment had led her to Butte, where she may become equipped for educating community members on the importance of resilient food energy systems. Victorian joined Energy Corps in October 2018 as the Farm Energy Educator at the National Center of Appropriate Technology in Butte. She will be involved in developing farm energy education materials, conducting energy audits, researching efficiency improvements, and conducting public outreach efforts.
---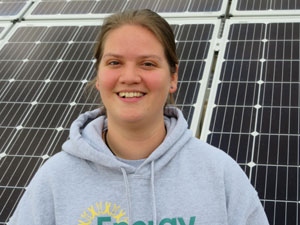 Sophia Valenzuela holds a Bachelor's degree in Chemical Engineering from Stanford University with a Masters in Nanoengineering with a concentration in Nanotechnology for Energy and the Environments from the University of California, San Diego. Prior to Energy Corps, Sophia worked at the National Renewable Energy Lab, researching the potential for floating solar panel installations in US reservoirs. Sophia will be serving as the Montana Energy Corps Sustainability Educator for the city of Whitefish. She will assist with the implementation of the city's Climate Action Plan and work with the Whitefish School District to achieve its sustainability goals as a Green Ribbon School District and support the city's engagement in Climate Smart Glacier Country.
---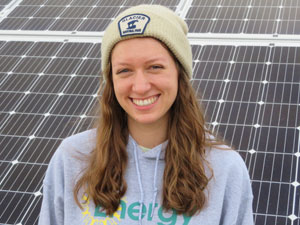 Anna Weinberg recently graduated from the University of Wisconsin-Madison with a Bachelors of Science in Zoology and Conservation Biology along with a certificate in Environmental Studies. While in school, Anna was one of the founding members and lead organizers of Campus Leaders for Energy Action Now (CLEAN), a campus clean energy coalition motivating the University of Wisconsin to commit to 100% clean energy by 2030. This past summer, Anna worked with the Clean Lakes Alliance to support and develop their citizen water quality monitoring program as well as help coordinate weekly watershed restoration volunteer days. This year Anna will be serving at Climate Smart Missoula as an Energy and Climate Educator. She will be working to support and initiate activities that implement the organizations Community Climate Action plan as well as connect with and support local groups also working on climate mitigation and adaptation.