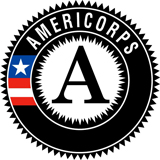 AmeriCorps is a program of the Corporation for National and Community Service, an independent federal agency whose mission is to improve lives, strengthen communities, and foster civic engagement through service and volunteering.
AmeriCorps is a national service program that offers opportunities to Americans 17 years of age and older who are interested in making a substantial commitment to serve their community through national service.
AmeriCorps is an opportunity to make a big difference in your life and in the lives of those around you. It's a chance to apply your skills and ideals toward helping others and meeting critical needs in the community.
Each year, AmeriCorps offers 75,000 opportunities for adults of all ages and backgrounds to serve through a network of partnerships with local and national nonprofit groups. Whether your service makes a community safer, gives a child a second chance, or helps protect the environment, you'll be getting things done through AmeriCorps!
AmeriCorps members address critical needs in communities all across America. For more information on AmeriCorps, please visit the AmeriCorps website.