Read about Alex's service balance between teaching and research:
When I applied to serve as an Energy Corps member, I was like so many other people looking at AmeriCorps.  I had just graduated from school.  I wasn't sure what I wanted to do with my life.  Adulthood was some big, terrifying unknown that I was ill-prepared for.  All I knew was that I probably wanted to do something that helped people—as vague as that sounds.  I had narrowed down my career options to either teaching high school or doing organic chemistry research.  Weirdly enough, Energy Corps had a position that encapsulated both those interests.
I took the position hoping that it would help me decide what I wanted to do with my future (and, more immediately, where I wanted to go to graduate school).  And some days I'm fairly confident I've decided.
Some days I'm frustrated to tears by the fact that I can't figure out the code for the robot I'm helping the students at Box Elder high school build.  Those days I'm sure I'll go back to school for chemistry.  Other days, I see the faces of our Big Sandy high school students light up when we finally get crystal structures appearing on our polarized light microscope.  Those days, I know I'm going to go into teaching.  Yet there are just as many days when I'm looking at a mass spectrum of a sample we've just produce in a weeklong chemical reaction and it just makes so much sense.  And those are the days when I know I'm a chemist.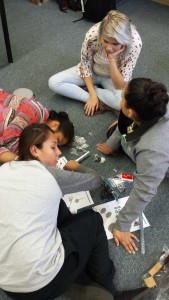 I go back and forth.  I love learning with our ten fantastic Box Elder students about mechanical properties, programming, and gears.  I love watching them grow as engineers as well as leaders.  I also love helping our two Big Sandy students develop their science fair project.  I love seeing them finally understand the science behind making anti-freeze from renewable resources.  But then I also love chemistry.  I love working in our labs and interpreting spectra and reading papers.
I took this position with the expectation that it would show me what I wanted to do with my life.  Unfortunately, I'm nearly a quarter of the way through my experience and all I've found is that there are great days and there are awful days for both teachers and chemists.  The fortunate thing is that while I'm sure there were bad days, I can't think of a single example.  I may not be any closer to coming to a conclusion about my future, but I think it's because I'm truly enjoying both aspects of my service.  While some moments are frustrating, they're outweighed by the moments when it seems like this is what I'm really supposed to be doing right now.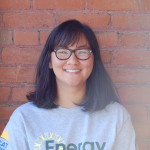 Alexandra Jones recently graduated from Washington and Lee University with a B.S. in Chemistry. She spent the summer of 2015 working for The Nature Conservancy of Eastern Idaho conducting research and assisting with ranch labor. Alex serves as the Bio-Energy Educatory at MSU Northern's Bio-Energy Innovation and Testing Center. She assists in curriculum development for a 2016 summer science camp in addition to educational outreach efforts including tours of the center, biodiesel learning seminars and science fair education opportunities. Alex will also be responsible for completing a research project involving Camelina and woody biomass sources used for bio-based jet fuel.