Read about Juliet's Eco-School experience thus far:
Montana is an endless source of motivation for environmental scientists, educators, and advocates like myself. While slightly cheesy, it's true that living in a place with so much natural beauty really does remind me every day why I do what I do. The National Wildlife Federation's mission is "inspiring Americans to protect wildlife for our children's future". The importance of this mission could not be more apparent than in my new home surrounded by prime wilderness and wildlife habitat.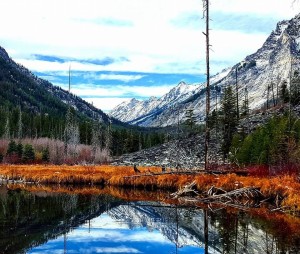 How could I not want to protect this?
I think about the significance of my service year every time I work with schools. And did I mention that I work with awesome schools? There are so many amazing educators here that do whatever they can to foster an appreciation of nature in their kids at a young age. Missoula schools like DeSmet School, Hellgate High School, and Origins Education among others all place an emphasis on getting kids outside in their schoolyard habitats or rooftop gardens.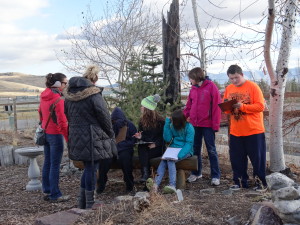 Seeley Lake Elementary in Seeley Lake, MT, for example won Outside Magazine's "Best Places to Work" award for 2014. That's right, not an outdoor company or environmental organization. An elementary school. And they did it by requiring their students to take advantage of the beautiful Montana landscape by offering not only outdoor education opportunities, but also Nordic skiing, hiking, biking, and trips to Glacier and Yellowstone National Parks. I'm fortunate to be able to work with them as they progress through NWF's Eco-Schools USA program.
Clark Fork School, the first Eco-School in Montana, has built their entire curriculum around teaching environmental awareness and sustainability. They have a wonderful garden with a teepee, a "tunnel of wonder", and a mud kitchen (where kids can make mud pies, obviously). We also have plans to co-host an art exhibit in my NWF office on the first Friday in March where we will be displaying their students' habitat-themed art and sharing their Eco-Schools achievements with the community.
The list of wonderful schools like these goes on and on. Instilling a love for nature at a young age is what helps create the next generation of conservationists, and I'm lucky that I get to play a part in supporting these efforts. Whether it be a love of hiking, biking, or even just listening to the birds chirp and smelling the flowers from a park bench, many of us have a stake in preserving our natural features and wildlife habitat. It comforts me to know that there are so many people here who are passionate about promoting environmental stewardship. Seeing the noticeable excitement in the children when they get to spend time in these beautiful outdoors makes me remember my own childhood running around outside. These experiences I have through my service are a constant reminder why I became interested in conservation in the first place.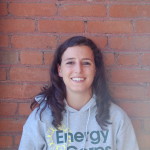 Juliet Slutzker received her B.S. in Environmental Science from the University of Michigan in 2012 and earned an M.S. in Biology from Bowling Green State University in Ohio in May 2015, where she studied conservation of stream animal populations. As a Teaching Assistant she gained valuable experience in outdoor and environmental education. As the Sustainability and Habitat Educator with the National Wildlife Federation, Juliet's primary duties are supporting existing member schools of the Eco-Schools USA program by recruiting and training volunteers, researching funding opportunities, and presenting resources on NWF's education programs. Additionally, Juliet works to expand participation in the Missoula Community Wildlife Habitat Initiative and provide presentations, workshops, and outreach regarding the initiative.