Read about Katelynn's service project progress in Red Lodge:
Moving to Red Lodge, MT was very exciting for me. I was moving back to a small town similar to mine, only I have beautiful mountains to look at every day. Coming from a small conservative town, I presumed I would be facing a similar feat here: how do I discuss sustainability issues in a non-biased way?
Being an Energy Corps service member has helped a lot in this regard. I sway the work I am doing as strictly energy savings and conservation; and it works. Since I have been here, I have dropped the climate change argument and spent my time discussing how we can address financial stability by cutting energy use and drawing in tourists. These two topics cover nearly everything I am doing even though in the back of my mind I'm thinking "pollution reduction". If we can continue to link our work to bettering our communities using a variety of relevant topics, things can change without a political discussion.
I have been fortunate enough to have a supportive city council that is allowing me to be creative in my approach. My biggest project has been transitioning some of our streetlights over to LED. At first this seemed like a daunting task but I was fortunate to catch a break with 24 recently installed streetlights. We will be successfully transitioning these lights over in early Spring. To top it off, a generous community member who I have been working with on this project has offered to pay for the installation costs. We will be able to cut the electricity use on these 24 streetlights by nearly 50%.
In regards to increasing tourism, I have been working to get 4 electric vehicle charging stations installed to draw tourists to Red Lodge and on into Yellowstone National Park. With the help of the Yellowstone Teton Clean Energy Coalition, I have been able to seek guidance about the usage of these charging stations and make connections with Tesla Motors who might be able to install the chargers for free.  To me, this means more clean cars cruising through the park and great tourists (who can afford a Tesla) exploring Red Lodge.
By changing the topic of conversation, I have been able to leverage necessary and progressive tactics that will benefit the community well into the future. I've been extremely lucky in terms of the success I have already had and what I can see occurring in the New Year. My next project: how to use this same tactic in terms of recycling.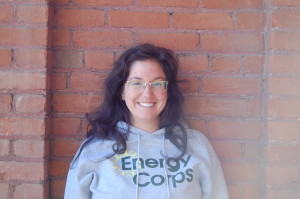 Katelynn Essig has a Master's Degree in Sustainable Development and Policy from the University of Illinois and she is serving her second AmeriCorps term with NCAT/Energy Corps. Katelynn's first year was with RARE AmeriCorps in Oregon, serving as the Economic Development Assistant with the City of Oregon City. Her experience with RARE was great and she is thrilled to return to sustainability project work. Katelynn is serving as the Sustainability Educator with the City of Red Lodge, working to retrofit City buildings with renewable energy, increase energy efficiency in city operations, and expand recycling operations throughout the community.