Read about what Bill's learned during two years of Energy Corps service:
What an experience. From preforming energy audits in low income homes, to teaching energy conservation courses, to introducing the LG at the ServeMontana Symposium, to organizing the SMART Schools Symposium, Energy Corps has allowed me to have some incredible experiences.  As I wrap up my second term of service with Energy Corps, I feel lucky to have spent two years with such a great program. As the end of approaches, I cannot help but feel nostalgic as I look back at my time in Philadelphia and Montana.
I still remember my first call with Kaleena in the spring of 2013. At the time, I was a college senior and had no idea what I wanted to do post-graduation. I remember telling her that I want to gain "real world experience" and be put in a situation where I could expand my "practical energy knowledge". Boy did I get my wish. Working with Energy Corps, ECA, and DEQ allowed me to expand my understanding of the clean tech industry, earn professional certifications, improve my public speaking, grow as an educator, appreciate the importance of organization and communication, and so much more.
The reason I learned so much over the past two years is because I worked with such great people. Beyond the nuts and bolts of energy conservation and renewable energy, the people I met through Energy Corps, ECA and DEQ taught me about life in the "real world" and being a professional.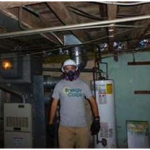 In Philadelphia, Scott, Walt and Liz taught me about leadership and the business side of energy conservation. David showed me how to stay calm while dealing with seemingly impossible tasks—"If the building is burning down, just put the fire out". Pam and Tony demonstrated the importance of being passionate about one's work, but never being too busy to say hello. Marco, Dawn, Da'nell and T taught me how to have fun at work and integrate humor into the mundane. While working with Chris, Pat and Sherleen made me appreciate the value of unrelenting effort and a no excuse attitude.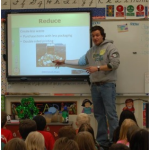 During my Montana service, Lt. Governor McLean showed me how one person can make a huge difference in the world through enthusiasm and sheer force of will. Ivie taught me numerous practical lessons about pretty much everything. Working with Bonnie and McCall made me to appreciate the intricacies of balancing a seemingly insurmountable number of tasks and "keeping the balls in the air." John, Jacob, Paul and Stephen showed me how to bring your personality to the office and never take yourself too seriously. I want to thank all of these people (and many additional wonderful individuals at ECA and DEQ) for making these last two years so special.
While I have numerous people to thank, I want to give a special thank you to Kaleena. Kaleena, you have been awesome to work with and a source of endless support. Your approachability, humor, sensitivity and work ethic has made Energy Corps into what it is today. It has been incredible watching your development and growth as program director. Thank you so much for all of your help over the past two years and dealing with my endless questions.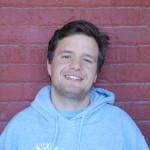 Bill Pedersen graduated from Hamilton College with a B.A. in Environmental Studies. He spent last year as an Energy Corps Member serving with the Energy Coordinating Agency of Philadelphia. During his time with ECA, he helped conduct energy audits on low income homes, presented at community energy awareness events and taught at ECA's Green Jobs Training Center. Bill is serving at the Montana Department of Environmental Quality this year, launching the Governor's Smart School Initiative.