Read about Caroline's reflection on her time as a service member in Missoula: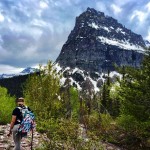 Over Memorial Day weekend in May, I led a group of three former classmates on a backpacking trip through Glacier National Park as part of an alumni event run through our university. Each of them were visiting Montana for the first time and were coming from major metropolitan areas. It didn't take long in the splendor of Glacier for smart phones, emails, and presentations to become a distant thought, and for work heavy discussions to be transformed into awe-struck statements about the enormity about the mountains, the bear footprint we just passed, or the bighorn sheep we saw crossing the stream. Throughout the trip I felt like I was seeing Montana for the first time again, and I felt incredibly grateful for the added perspective. Looking at Montana's massive landscape through their eyes helped me answer the question I most wanted to answer: whether to stay in Montana or move back to my roots on the east coast. As I drove away from West Glacier, I knew that August was too soon to say goodbye to my new home. Montana had successfully wooed me away from Boston, at least for now.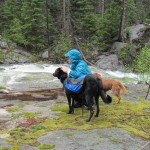 I had been warned of Montana's seductiveness from the moment I arrived in the state, and I always knew it would be hard to leave. Despite that knowledge, I had no idea how much the natural landscape would inform my term of service and how much inspiration I would garner from hiking, skiing, and mountain biking in my backyard.  On my first day of service, my supervisor Chase gave me a book of local hikes around Missoula, in which he inscribed, "May your explorations let you see one of the many reasons we do the work that we do. Work hard to preserve the place." It has been a touchstone of my service, with Missoula's sense of place inspiring all of my work in community climate action planning.  I am filled with gratitude as I think about living in Montana. It is rare to live in a massive outdoor adult playground.
At the heart of my love for Missoula is not the landscape or the charm, however, it's the people. The desire to stay in Missoula and continue working in the climate movement would not be possible without an enormous sense of gratitude for them, and I have spent the past 10 months working with some of the most passionate and genuine people I have ever met. I have been able to work with people for whom climate work is not just their job – it's a huge part of their everyday lives. Their passion inspires me to continue to work hard at work worth doing.
Lastly, it does not escape me that many people spend the majority of their lives working on projects that they care little about, and I know that I am fortunate to have had the opportunity to find such meaningful work at a young age. I am thankful that the Energy Corps program gave me, a History and Literature major with environmental interests, the chance to delve into a heavily quantitative carbon emissions report and explore new pathways.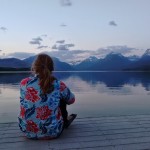 I often suffer from something I like to call, "crippling nostalgia." It has flamed up again now that my term is coming to an end, but it is tempered by my decision to stay put in Missoula, working on many of the same issues as an employee of Climate Smart Missoula, a start-up that has germinated during my time in Missoula. I can only hope that the next year brings me as much happiness, adventure, and discovery as the past one did.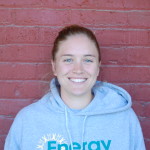 Caroline Lauer graduated from Harvard University in May of 2014 with a degree in History and Literature. She completed course work at the Graduate School of Design, and hopes to pursue a Masters of Urban Planning in the near future. Caroline is serving with the City of Missoula this year, updating their greenhouse gas emissions inventory.