Read about Jeremy's journey to Montana and how he was welcomed by his new host site:


I applied to the Energy Corps in Montana with the hopes of advancing knowledge and access to renewable energy sources in Montana, as well as expanding my skill set for future use. I was thrilled to receive a call from Jennifer at the Alternative Energy Resources Organization offering me a position organizing a series of Clean Energy tours in various communities throughout the state. Having just graduated from Pacific University this December I was, and still am, enthusiastic about my service with AmeriCorps, though my trip to Montana was a trying experience.
My journey to Montana was a rather long, and arduous endeavor. With all our belongings packed into our tiny house, my girlfriend and I left from Oregon on a beautiful sunny Monday afternoon. I was confident that the trip would go smoothly, despite my utter lack of knowledge about towing even a small utility trailer, let alone a 7,500 lb house that acts like a parachute on the back of the truck. Nonetheless we set off for Montana, that was until a tire, rim and all, flew off of our house removing the siding almost completely from the wall on the driver's side. So there we were, stranded on the outskirts of Portland, blocking 3 lanes of traffic on Hwy 26 (a main thoroughfare into Portland). Not the start I was hoping for, but we remained optimistic, and thanks to help from my uncle and some saran wrap (I know, we didn't want to use it either), we were back on our way by 9 o'clock  that evening. The rest of the journey was stressful, but comparatively uneventful, despite another flat tire, this time in Coeur D'Alene, and having to find new lug nuts go missing for our truck's tires. Needless to say, when we arrived in Helena three days later I was drained, and not completely prepared to start my service with AERO.
However, Corrie and Jennifer were extremely welcoming, inviting me to a potluck that was in partnership with the Montana Wildlife Federation and the Helena Hunters and Anglers Association. The event consisted of a diverse group of people, from vegan farmers to meat loving hunters. Despite their differences, they were drawn together by their common belief in local food systems, whatever shape that may take. Witnessing and being able to meet some of these individuals makes me truly appreciate where I am and gives me confidence that I can thrive and make great differences here with AERO.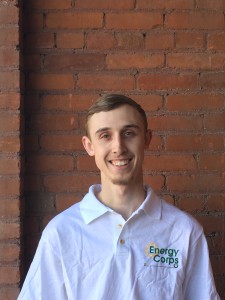 Jeremy Parkinson As an Environmental Studies, Sustainable Design Major at Pacific University, Jeremy received great instruction regarding sustainability in all areas, from wildlife conservation to sustainable building practices. He built his very own tiny house as part of a Capstone project and recently brought it out to MT with him. Jeremy grew up just south of Portland, OR. he will be serving with AERO in Helena, compiling information on sustainable and renewable energy resources in the Helena area. He will also be giving tours and presentations in several communities around the state.