By Thomas Allen:
It has been a busy summer indeed. Butte is an incredible place in the summer with so much to do! I have mountain biked through Butte's playground, Thompson Park. Hiked in the Pintler-Anaconda Wilderness, along Continental Divide Trail, and through giant rock towers in the Humbug Spires. I have taken in the amazing Montana Folk Festival with Sri Lankan dancers and an Ethiopian jazz band among dozens of other performances. Just this past weekend, biker dudes, flying dirt bikes, and raucous bands took over the streets for Evel Knievel Days. Every weekend has been a new and wild adventure.
In June, I helped USGBC MT host a green schools training session at the Montana Behavioral Initiative Summer Institute in Bozeman as part of the Better Buildings Better Learning training series I helped to develop. We led an interactive session for school facilities managers, teachers, and administrators on how to green building operations and incorporate sustainability into the classroom curriculum. It was great to see the staff engaging with the material and working together to solve challenges in their schools with sustainable solutions. I hope they go back to their schools excited to incorporate sustainability in the buildings and classrooms. The training series will continue in October with three web-based training sessions to teach the staff additional greening strategies and provide support to help them be successful at each of the participating schools.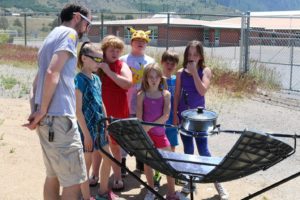 In July, my fellow Energy Corps member, Shyla, and I developed a workshop to teach kids about renewable energy and show them the possibility of cooking using the sun with a solar oven and cooker. The first workshop was with a great group of girl scouts who were excited to answer questions using remotes (Turning Point software with Power Point), race solar powered cars, asked good questions, and enjoyed solar hot dogs and cookies. Shyla and I definitely learned what worked well and what didn't from that workshop. We were then asked to travel to Bozeman to present on solar energy and lead an activity to build solar ovens with kids at the Gallatin Valley Farm to School summer camp. Taking what we learned from the previous workshop, we simplified the presentations and made it very interactive by asking the kids questions. We helped the kids build solar ovens using pizza boxes and household supplies, and the kids also got to cook their own pizza with the limited sunlight on a mostly rainy afternoon.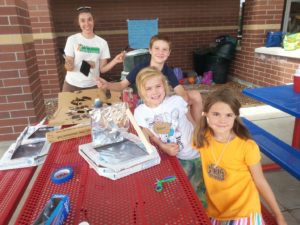 This week, Shyla and I braved the smoky skies (do to nearby wildfires) to speak with the people of Anaconda at their weekly farmers' market about the projects we and other Energy Corps members are working on.  We engaged people about USGBC, the Montana Resource Efficiency Program (MREP), and the Low Income Energy Assistance Program (LIEAP). Several people we spoke with felt that LIEAP could be a great help to them and we were very happy that we could provide them with information on the assistance they need. Our table was right next to that of the Sage Mountain Eco Center and the Montana Renewable Energy Association (MREA), and it was great to chat and network with the representatives of those organizations.
So, my service term will be ending soon, but I feel like I am really getting going on some of my projects and community outreach. I have fallen in love with the beauty and wildness of Montana. Next weekend I am taking a trip to Glacier National Park with friends to see the fleeting glaciers and take in this majestic place everyone says "You have to go there!" I am still determining where my next adventure will take me but Montana will always be one of my favorite places to live and I plan to visit again and again.
---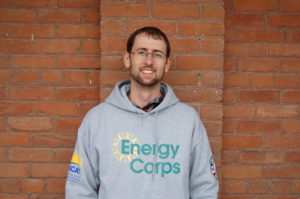 Thomas Allen attended Appalachian State University, majoring in Appropriate Technology with a focus in renewable energy, sustainable building design, and sustainable development. He then worked as an energy auditor and project manager for companies doing energy saving retrofit improvements in homes in the Washington, D.C. area. He will be serving at the US Green Building Council of Montana on the Montana Green Schools Cohort program to guide school staff on green building operations and sustainability education curriculum planning.