By Victorian Tilley
YMCA! Each summer for the past several years, the National Center for Appropriate Technology has hosted kids from the YMCA Summer Camp program. Young ones kindergarten through 5th grade visit the SIFT demonstration farm about once a week to participate in various gardening activities. A FoodCorps member and I lead the always excited group in these activities on their allocated plot on the farm. Because of the somewhat unpredictable weather here in Butte, activities kick off indoors just before school dismisses for the summer, and include things like starting seedlings and learning about soil health. Once the group can primarily be outdoors, we begin preparing the soil, transplanting the young plants that were started indoors, planting seeds, weeding, watering and making arts and crafts.
A major part of the program this year has been adding a few structures and making the space more kid-friendly and fun. One of the concerns with the garden plot in previous years was that the kids were regularly stepping on top of the growing areas. Until they are able to understand the importance of not stepping directly on top of where the plants will grow, it is challenging to prevent that from happening. This year, we constructed six raised beds eight feet long, four feet wide, and half a foot tall. They are constructed out of the boards, nails, and brackets that were a part of an older High Tunnel on the SIFT farm, soon to be replaced by a new one. We were able to build these beds without purchasing any new materials. Now the eager gardeners have clearly defined spaces where vegetables may grow without much disruption. They are quite effective so far! Another new structure in the YMCA plot is the grow tower, a four and a half-foot tall, revolving cylindrical structure that can be filled with up to 6 cubic feet of soil and has 50 pockets for plants to grow from. In the center of the tower is also a tube for vermicomposting, breaking down organic material using worms. The tower takes up very little space – four square feet, can be rolled around if on a smooth surface, revolves very easily, and is sturdy and durable. It has proven to be a fantastic tool for kids to interact with and learn about general plant science, composting/vermicomposting, and growing food in limited spaces.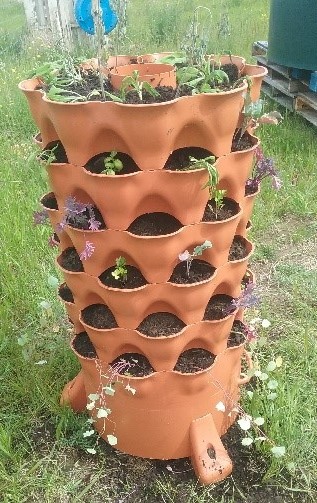 So far this season, we have planted pea and sunflower and discussed general soil health, discussed cover cropping concepts, and explained that it is important to understand soil as living and interconnected. We have also planted radish, beet, kale, and wildflowers in the raised beds. When planting the wildflowers, we discussed native varieties for Montana and the importance of having areas in your garden that attract pollinators. In the grow tower the kids helped transplant flowers, tomatoes, kale, and herbs as well as load the middle tube with worms and soil. We talked about the importance of worms and their role with the soil and its microbiome. Lastly, we planted potatoes and discussed how they grew. The kids were amazed to see these potatoes, mainly because they had been sprouting for a while now and were hardly recognizable. They learned that we desire the underground portion of this plant, the tubers, instead of the aerial parts (leaves, fruits, etc.) like many other plants.
It's been quite a treat hanging out with these kids and their camp leaders. They are always excited and inquisitive when they show up to the farm every Wednesday morning. Throughout their hour or so outside with me, they ask really great questions that honestly catch me off guard sometimes. At the end of their time, we talk about what we did and several of them tell me something they learned that day. These reflections are also impressive and show that they are really "digging" being out on the farm! J I am glad to have the opportunity to be involved in their hands-on experience of working the soil, caring for the plants, and deepening their understanding of fresh food sources. As an EnergyCorps member who must serve to keep our community happy and healthy, I believe I have found my niche.