Read what Alanna's learned about tribal history and presence in Glacier NP:
Although I work in an office for approximately 40 hours a week, the rest of my days and nights are dedicated to playing in the most beautiful place on Earth. When I hike or backpack, life is put into perspective. As I watch Golden Eyes and Loons float across placid lakes offering mirror reflections of the mountains, the waterfalls, the packs of snow tucked away into drainages, calling in haunting howls to one another, everything unnecessary falls away. I am here, and I am of the Earth. The simple fact and blessing that I am something rather than nothing lifts me from within towards the millions of billions of stars above. Thank goodness for National Parks.
But these lands were occupied for generations and generations before the National Park Service was even an idea in Teddy Roosevelt's head. Glacier National Park holds traditional and cultural significance far beyond my comprehension, or the vast majority of our comprehension, to four different Native American tribes: the Blackfeet, Salish, Kootenai, and Pond Oreille. Unfortunately, we often forget or don't even realize how short our tenure as non-Native Americans has been on this landscape. We forget the fact that long before us, since time immemorial, different peoples have lived within the ecosystem and developed spiritual and sacred connections. Ed DesRosier of Sun Tours, an official Glacier National Park concessionaire, has been attempting to educate the millions of visitors each year about the Blackfeet Tribe's historical and current connection to Glacier by providing a guided tour service throughout the entirety of the Park. I met with Ed and his son, Derek, in the beginning of June hoping to get a better understanding of the kind of sustainability messaging they offer their clients. I had a sheet of talking points prepared and my notebook ready. My first question seemed like a simple enough one to me: "Can you tell me about the founding of Sun Tours?" The answer, however, revealed much about the federal government's relationship with Native American tribal governments and businesses. This blog is not the place to discuss the exact details of how Sun Tours, now a Blackfeet Tribal Chartered Business, came to establish itself in 1992 after an arduous two years of vying for a contract and demanding acknowledgement and legitimacy from Glacier National Park. This blog is the place, however, to express the absolute importance of partnerships and the inclusion of everyone in moving towards a more sustainable operation for Glacier National Park. Human connection, face to face contact, open communication lend themselves to bridging the many gaps in ideology and world views inherent in addressing sustainability and climate change. We all come from different backgrounds, we all have different concerns, different driving factors, and the only way to over come the many problems Glacier National Park, and the world, faces is to connect and create partnership.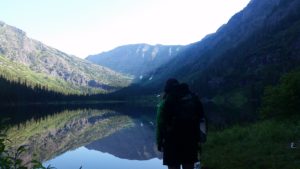 There is so much we can learn from traditional ways of relating to the land. Traditional ecological knowledge and Native American perspectives are valuable resources in altering and ultimately improving how we relate to the environment. Jeff Mow, the superintendent of Glacier National Park, has been a champion in fostering and improving the relationship with the Blackfeet Tribe in an attempt to address the lack of inclusion and support felt by the tribe over many years. As I move forward in finalizing an Environmental Commitment Statement and Sustainability Report for Glacier, incorporating the perspective of the indigenous peoples native to this land alongside the attitudes of the NPS and the individuals, employees, partners, organizations, and concessionaires of Glacier National Park will only work to strengthen the sense of unity in Glacier Country. Now is a time to unite, now is a time to actively engage and participate, now is a time to create space so that all voices, especially those systemically suppressed, can be heard. The proverb rings just as true today as ever: "We do not inherit the earth from our ancestors; we borrow it from our children." With everything I have in me, I will try to leave this world in a healthier state than in which I was fortunate enough to find it.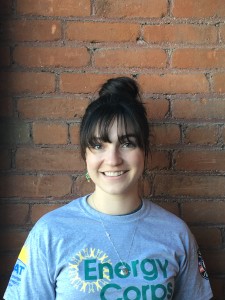 Alanna Wulf grew up in Billings, MT and graduated from the University of Montana with a degree in Environmental Studies. While in college, Alanna served as the Outreach coordinator for UM Recycle, collecting recycling data, promoting recycling through outreach, and hosting events such as a clothing drive. Alanna will be serving with the Crown of the Continent Research and Learning Center in Glacier National Park in West Glacier, MT. She will break ground with a community sustainability plan as she works to create a sustainable culture in the park including visitors, staff, and the surrounding community. The plan will address recycling, energy efficiency, transportation, and night skies. Alanna will provide education and training to part staff, partners, and visitors, so everyone will understand the value of implementing green and sustainable practices in all possible operations.