Read Steve's latest blog about the intricate world of servers at the University of Montana:
One of my projects during my short time with Energy Corps has been completing an updated inventory of small server rooms at the University of Montana. The reason this is important from a sustainability standpoint is because server rooms are energy hogs. The equipment itself draws a good amount of power (a Dell PowerEdge 2950 server uses 750 watts), but servers also require a backup battery called an Uninterruptible Power Supply (UPS) as well as an air conditioning unit running 24/7 to prevent the servers from overheating. We can't live without this technology, so taking steps to make it less wasteful makes sense.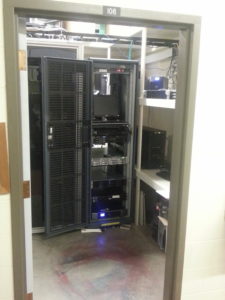 The basic problem is that there are small server rooms spread across campus, when it would be significantly more efficient to have them consolidated in a single space. The U of M even built a $2.5 million state-of-the-art Tier II data center in 2014 and it has extra space! The standalone modular structure (MDC for short) features an adiabatic cooling system that utilizes smart sensors to circulate outside air. The Power Usage Effectiveness (PUE), a metric for the efficiency of a data center, is 1.5.  The old data center in the liberal arts building had a PUE of 5, so efficiency has drastically improved.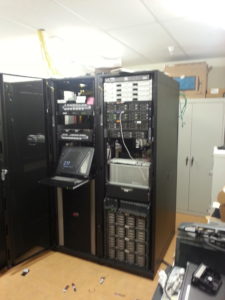 I'm not an IT guy myself, and gaining fluency in the topic of servers has been an odd experience. I still do not understand the technical jargon, but my work has been more about institutional organization, financial disincentives and human motivations. Moving forward on this project has required excellent written and verbal communication in addition to skill in building new relationships with diverse people (take note, employers!). One of the fascinating aspects of this project has been the continual unveiling of new people with new information. Just last week I met a service tech cleaning the air filter of the AC in the server room next to my office, and he revealed that Tech Services has a list of all the server closets. Needless to say, I made plans to take a walk with him next week!
I have identified 18 server rooms so far around campus. Several that were identified during the previous inventory have since been decommissioned and shut down. Four of the people I spoke with indicated they plan to move their server equipment to the MDC within the year. In general, there is a distinct note of optimism in the IT community about the potential to increase the efficiency of their services. The task requires clear communication, targeted education, and follow-through (a utility incentive would be a huge help).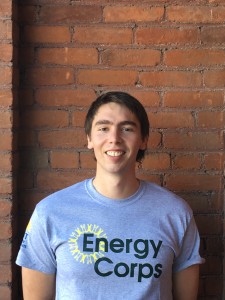 Stephen Luther grew up in McKinleyville, CA, less than 100 miles from the Oregon border. He served as an AmeriCorps member last year with the CivicSpark program, working on energy and climate related projects for the Redwood Coast Energy Authority. Steve graduated form Williams College in 2011 with a degree in Political Science and History. He obtained a certificate in Natural Resources Planning from Humboldt State University in the spring of 2012. Steve will be serving with the University of Montana in Missoula, specifically with their sustainability office. He will conduct a campus-wide plug and process load inventory, including an inventory of non-centralized server spaces, desktop printers, personal refrigerators, heaters, and more. In addition, Steve will engage with building occupants to publish and share the information collected which will in turn inform energy conservation strategies that can be implemented through behavior change and individual scale improvements.