By Heather Leach
Do you remember playing in the snow when you were in high school? It's a time when you've maybe outgrown much of your old snow gear and boots, don't have recess at school anymore, and maybe think it's not "cool" to be excited about snow. This winter, the Clark Fork Coalition gave over 300 high school and over 200 middle school students the chance to embrace the joy of fresh snow while making important connections to climate change and their local water supply through our Snow and Tell program. Clark Fork Coalition provides a 3-5 day program focusing on snowpack and its connection to our water and rivers throughout January and February.
During our first in-class session we discuss why our snow pack, and therefore our Snow Water Equivalent (SWE, how much water is in our snow), informs decisions from state governments, to local ranchers, to river recreaters. Students are introduced to CFC and our mission: to protect and restore the Clark Fork River basin, and told to dress warmly for their field trip to an old local ski resort, Marshall Mountain. The generous owner of Marshall allows us to use the old lodge (including fireplace) as a classroom for students to do calculations during their field research trip.
When students arrive for their field-day, they are immediately confronted with the snow pack. During their walk up to the lodge they experience the struggle of walking through sometimes knee high snow for the first time that day. Once put in groups students are given their science challenge- to determine the amount of water currently held in Marshall's snowpack. The students are sent out to the snow field to dig a snow pit and take measurement of the snow. Through their samples and calculations in the lodge the students eventually come up with a SWE number for their snow pit. During the student's time at the mountain they are able to roll around in the snow, make snow angels (data collection first though!), and interact with local professionals and volunteers who are all snow science experts!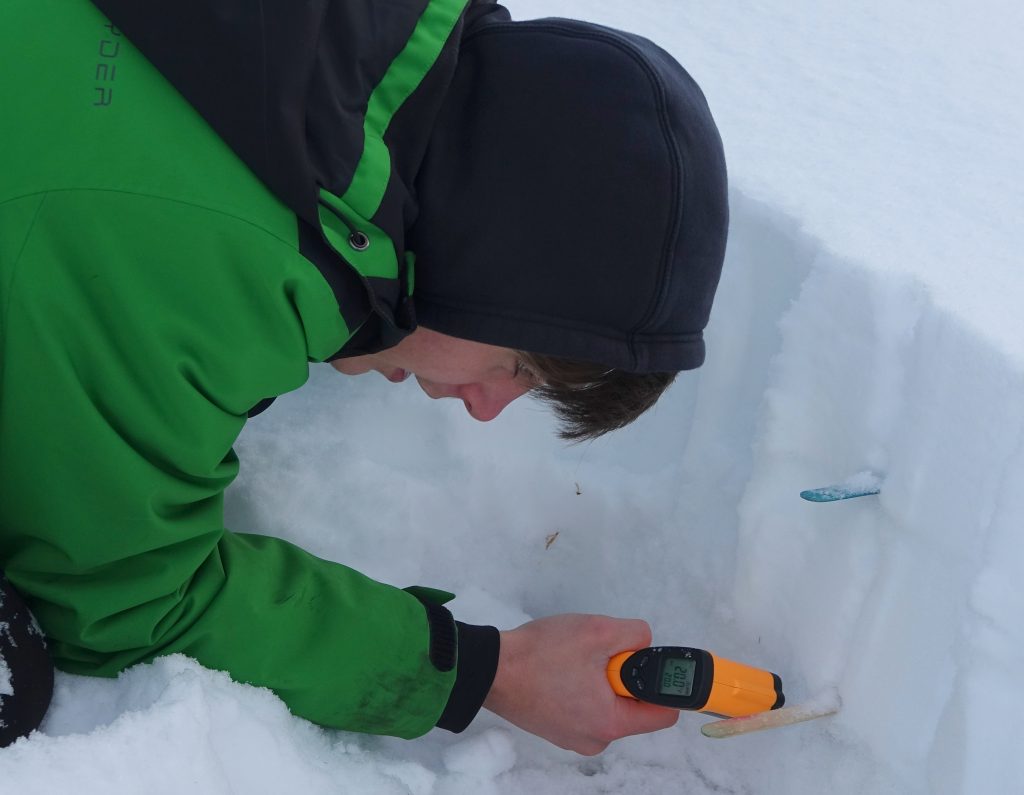 The winter in Montana can be a dark and cold season, driving many indoors. By creating a program in the middle of winter, and needing snow pack in order to complete the study, we teach the students to celebrate every snow fall and cold day that supports a healthy summer streamflow. With this hands-on experience, the students start to understand how our mountains act as water towers for those in the inter-mountain west. Montana is considered an arid state and we rely on our winter snow and ice pack to fill our rivers with cold, clean, continuous stream flow.
To wrap-up their Snow and Tell program, students focus on stakeholders who rely on this SWE for their livelihood. Students discuss how ranchers, fly fisherman, city officials, and casual river recreationists are affected by each year's snow pack. During our follow-up visits we ask the students to identify snowpack trends that are most interesting to these stakeholders. Through information found on the USGS website we are able to look at past SWE and snow pack numbers. Students use this data to investigate patterns and changes in our SWE and to make predictions about the future.
With this program we are accomplishing CFC's goal of creating future river stewards. By the end of the program the students comprehend what a water year in their area looks like, how different weather patterns affect our streams and rivers, and what it could look like if our snowpack diminishes in the future. We hope that with this information the students will go on to become engaged citizens, share this information in their social circles and one day become voters who care about our rivers.