Read about Kamene's transition from Austin, TX to Helena, MT:
Nearly two months after packing essentials into my white Toyota Camry, after driving nearly two thousand miles from Austin, Texas to Helena, Montana, I am still en route. Which, is the plan.
"Planning" underscores my approach to this experience. Before applying, I spent months identifying interpersonal and career goals, lacking skillsets and necessary strengths. After accepting the offer to begin service, planning around my potential work schedule, potential projects, potential resource needs, and navigating a potential work climate took up my last remaining evenings in Austin.
During Pre-Service Orientation, we were repeatedly warned about the mid-service "lull", when excitement about the newness of our host sites and new communities waned, work came at a predictable pace, and novelty ceded to familiar reality. I felt exempt from this inevitable "lull," believing that I began from the rational, realistic, low plateau of one who planned ahead, planned for uncertainties, contingencies. Nearly two month's in and I cannot help but look at my plans, insufficient, and see that I am at that high peak, that I wore rose-colored glasses, that there is no planning change.
I didn't account for miscalculated assumptions. I assumed that my workplace would be difficult to navigate when, in fact, it has been one of the freest, safest spaces to root and sprout, girded with leeway for positive failure. I assumed and accepted that my work within a state agency would be necessary tedium from the start when, in fact, work has proved to be a productive ebb and flow in a multitude of directions. My host site supervisors and other supportive staff at the DEQ have encouraged and facilitated my exploration of the many small brooks that branch from the main body of defined work. I didn't foresee the freedom to pursue niche interests and skills that still contributed to my work in outreach.
I did not neglect the social element in attempts to predict and prepare, to evade the surprise vagaries of transition. I have found that, especially outside of the office, my race, my appearance, my difference is a significant, weighty identifier. I assumed that some might stare, most would openly engage. However, I didn't plan to be  the sole  visual focus at a bar with my new colleagues, at the farmers market shopping veggies, on my bike at an intersection. I attempted to ground my expectations in the marked cultural and demographic difference between Austin, Texas and Helena, Montana. I did not fully understand that a significant part of my experience would be perceptions of me as the novelty, the unexpected reality. I prepared for the necessity of a creative mental framework to process my experience as a short-haired, "alternative" looking black female in an overwhelmingly white-Caucasian, conservative space. At times, creativity has escaped me. I feel that this social element brings deeper meaning to my service.
It is not simply the transition from familiarity, from predictability, from understanding and intimately connected friends and peers. It is a transition to another face of this multidimensional country – serving on the issues that affect us all, that bind us to immutably shared resources and neighbors, known and unknown.
I came into service deliberately seeking to engage transformative challenge, the sort that quickly dispatches twin comforts of ease and habituation. Challenge that cannot be met without internal load-bearing beams of self-funded validation, empathy, and self-questioning. In many ways, my experience is that of any young person who embarks on a journey to "make the world a better place", hone their tools, identify their craft, and reap unmatched gifts of internal development and self-knowing.
There is no planning how growth takes, what new limbs will grow from this tree.
Rumi's words are a resting place that brings me back to my intention. "Run from what's comfortable. Forget safety. Live where you fear to live…I have tried prudent planning long enough"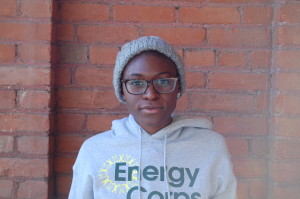 Kamene Dornubari-Ogidi has an academic background in neurobiology, GIS, and historical analysis primed post-baccalaureate volunteer work in water quality analysis for a non-profit utility and environmental advocacy. Recent experience in policy and project management includes State legislative lobbying with the Sierra Club and work as projects intern with a healthcare consulting firm. Kamene has nearly two years teaching experience as a substitute teacher and a summer facilitator at a STEM robotics camp. Kamene is serving with the Montana Department of Environmental Quality, assisting in public information outreach projects. These projects include writing and updating web-based resources that highlight state programs and initiatives and developing educational material for targeted outreach.