Read about Emily's Climate Hike Experience: After months and months of fundraising, sharing my story with everyone I could possibly think of, and mentally and physically preparing for 40+ miles of hiking, I set off for West Glacier last week to embark on Climate Hike. I could not have prepared for how powerful this experience would be.
Just entering Glacier National Park is enough to take your breathe away and put you in awe of the beauty that Mother Earth is capable of creating. The dramatic cliffs that spring up out of expansive valleys dotted with candy colored lakes make you feel like just a tiny speck of a human in this big natural world. Its unnerving, its grounding, and extremely important to feel that way.
What really made this experience special were the 22 other hikers that were part of the Climate Hike group. Our group consisted of people from all over the country, from all sorts of backgrounds and occupations, and ages ranging from 15-65. While our motivations for joining and beneficiaries differed, we all shared a common thread: a desire to support the planet. We chatted as we hiked, we learned each other's stories, experiences, and goals. At the end of the day, we would reflect on the day and life in general around the fire.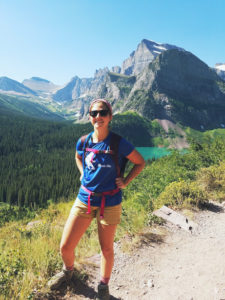 On the second night, after a 15 mile hike from Logan Pass to Many Glacier Valley (and a close moose encounter!), two ladies in the group with Climate Generation led us in workshop that encouraged us to think about our "Climate Stories" and what brought us all to Climate Hike. I jotted down my disconnected ideas at the time, and now having had time to reflect on the question and reflect on this past week's experience, I wrote my Climate Story to organize my thoughts:
When I was ten years old, my family moved from Wilton, Connecticut to Zurich, Switzerland. It was there that I learned the magic of public transportation. Unlike the strictly car-oriented streets of my suburb in Connecticut, I could easily walk, bike, take the train, bus, ferry, or even cable car anywhere I wanted to go. I was a pre-teen at the time, and it was life changing. I felt independent, able to navigate on my own, and make my own decisions. Moving back to Wilton just before I started high school was a culture shock. I missed that feeling of freedom.
The idea of studying the environment did not occur to me until I took AP Environmental Science during my senior year of high school. My teacher would take us out to the river by the high school and point out all the different plants growing and critters in the water. All of this was right in my backyard, and I never knew about it. We learned about environmental laws and grassroots movements and key species indicators. I was hooked.
Attending the University of Vermont completely solidified my passion for the environment. At my freshman orientation, while sitting at the computer clearly confused about what classes I should sign up for, a woman approached me and asked if I was interested in joining a freshman year program called Integrated Studies of Earth and the Environment (ISEE for short) as they were accepting walk-ins to the program. Considering I had no idea what other classes to take and would get to live in the fancy dorm called the GreenHouse for the year, I agreed right away. Luckily, I made the right decision. That year in the GreenHouse introduced me to the idea of "sense of place"- we learned about the natural, social, and cultural environment of Burlington. We were encouraged to get involved in the community, and reflect on how these factors may relate to what it means and how it feels to live there. In the GreenHouse, we would go on hikes together, stargaze together, cook dinner with veggies from a local garden and afterwards compost together. That community inspired me to always be conscious about what impacts my actions may have.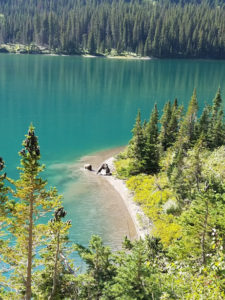 That same year, I went to a screening on campus of a documentary called "Mother: Caring for 7 Billion" about the implications of overpopulation on the planet. This film created a very clear connection for me about humans and the environment and how everything is so delicately intertwined. Watching this film lit a fire inside of me. I was scared, and then I was determined. I decided right then and there that I would declare Environmental Studies as my major and then go on to save the planet.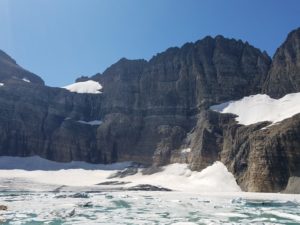 That fire is still with me today, but has taken many different forms over the past 5 years. The more environmental studies classes I took, the more scared I became for our ultimate demise, until I began taking classes for my Green Building and Community Design minor. The clouds parted as I learned about practical solutions to this looming problem: sustainable design. I took courses in biophilic design, landscape architecture, placemaking, sustainable transportation, and energy alternatives. I loved the idea of using creativity and art and beautiful materials to make more sustainable buildings and cities while influencing behavior change. That is what brought me to Montana to serve as an AmeriCorps member with Bike Walk Montana after graduating, and what will propel me forward through future positions and learning.
I now have Climate Hike to add to my list of key experiences that will influence my Climate Story. Simply being surrounded by 22 other hikers/world savers was the fuel I needed to rejuvenate this passion within me. I know I am not alone in this battle, and I know we will continue to fight our darnedest.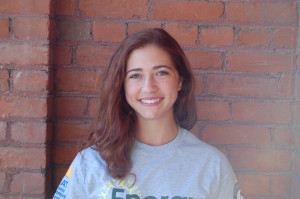 Emily Gluckin attended the University of Vermont in Burlington, VT, where she majored in Environmental Studies and minored in Green Building and Community Design. She focused her studies on how to create sustainable communities through improved design, technologies and community engagement. Emily is serving at Bike Walk Montana (BWMT) as their Alternative Transportation Educator. Her projects include education and outreach about safe biking and walking, organizing the BWMT Annual Summit, developing educational materials, web content, and newsletters, and further development BW Helena.