By Hailey Jorgensen:
Energy is a huge part of building a healthy sustainable community. Understanding all the pieces that go into energy consumption, however, is no simple task. Being a member of the Energy Corps program has given me the opportunity to better understand where our energy comes from, how we use it, how we talk about it, how we regulate it, and how we can do all of these things better. During my service term I have worked on home weatherization projects, a large-scale lighting retrofit project, and initiatives to help Missoulians better understand their renewable energy options.
This month is particularly exciting because Climate Smart Missoula has officially launched our Energy Smart Challenge! After releasing our first greenhouse gas emissions inventory for the Missoula community earlier this year, it was clear there is room for improvement. Residential energy consumption makes up 24% of the total emissions, the third largest sector behind transportation (37%) and commercial energy consumption (28%). We knew there were already several local programs and organizations working to promote sustainable transportation but there had never really been any long-term effort to address energy use in the home. That's when the idea for the Energy Smart challenge first began to take shape.
For the last seven months or so I have been helping to conduct extensive research on home energy efficiency. Unsurprisingly, it's not the sexiest of topics. How do you get a whole community to get excited about things like light bulbs and power strips? Competition and rewards seem to be the most effective way to engage larger numbers of people in a collective effort. We've seen examples of this being used to educate communities on home energy efficiency across the country. But how could we best implement that in Missoula? How do you engage everyone (renters, homeowners, students, and low-income residents) equally?
We wanted to develop a program that was educational and offered tangible actions for everyone, including people like me who rent and don't even see an energy bill. After months of deliberating, we decided to try our hands at building our own energy challenge and just see where it takes us! Our first Energy Smart Challenge email went out Friday morning, the first week of June after months of outreach and planning. After we hit send, I turned to Abby (our leader on this grand experiment) with a smile, "This is exciting right? We are finally doing this!"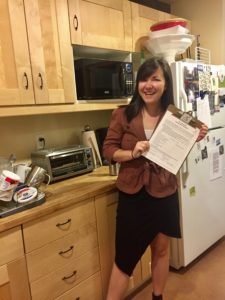 The Energy Smart Challenge will consist of weekly emails with information and resources to help you better understand their home energy use and a specific "Energy Action" to help reduce your energy use. Each month will have a general theme and each week will guide participants through simple steps to make their home more energy efficient. At the end of the month, you will report back what Energy Actions you did and give feedback with a quick survey. Points will be rewarded based on survey results, participants with the most points will have the opportunity to win prizes.
We are kicking off the first month by helping participants know where they stand when it comes to home energy consumption. Have you ever looked at your energy bill long enough to understand your energy use patterns? You will now! We even made a guide to help you perform your own home energy audit. And there is so much more to come, from lightbulbs to where to plant a tree for optimal energy saving during the summer. Sound fun? Sign up for the challenge! Even if you don't live in Missoula, most of our tips and ticks can apply to anyone and all of our weekly emails will be archived on the Climate Smart Missoula website. Maybe after a while everyone will get as excited about LED lights as I do! Though that seems unlikely…
---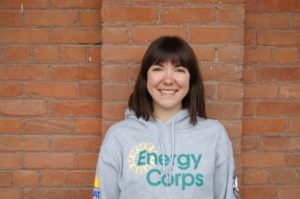 Hailey Jorgensen has a B.A. in Environmental Studies with a minor in Climate Change Studies and GIS certificate from the University of Montana. She worked with the Clark Fork Coalition as their climate change intern in 2013 and served as the Climate Change Studies Program Assistant in her final year. Since graduating, she has lived in Bend, OR. Hailey is serving at Climate Smart Missoula where she is helping to update and implement a Community Climate Action Plan, and to communicate greenhouse gas emissions and resiliency efforts for the Missoula area. Overall, she will connect and support groups working on climate mitigation and adaptation, and initiate activities that directly address climate solutions.