by Mohammad Moustafa
In the midst of a challenge, I yearn for support. The season of farmland has been going its route across the Golden Triangle. Working as an Outreach Coordinator trying to reach out to Farmers and Ranchers with no response took me to a place of discouragement and quiet sadness. The cold calling strategy upended my expectations, to a certain degree. Farmers were answering phones either hanging up or demanding to be removed from the list of contacts I had so enthusiastically gathered. One phone call onto another abruptly drove my state of consciousness into a gloomy remission. I tried to remind myself of reality and how it is normal to be a part of rejection. I shared my experience with my colleagues in the work setting, and in response, they shared their similar experiences. I asked if any of them knew about potential Farmers or Ranchers that I could reach out to, and unexpectedly, I received a recommendation for a man who knew all about it: Bob Sivertsen.
I went back to my office on a quest to reach out to him. Skimming through an article, I realized he was the president of the Highway 2 Association, an association made to champion a 4 lane highway across the North Central Hi-Line, a northern highway extending from Minnesota all the way to Washington. At the beginning of one of the articles it read a quote by Bob which said: "If it's to be, it's up to me," which referred to his longtime motto. After reading about his accomplishments and experience in the community, I was encouraged to give him a call. Out of surprise, the first phone call I made ended up with an appointment at an old café called 4B's. Two days later, I rode my bike down to 1st street and made a quick steer to the café, parked my bike and eagerly awaited his arrival.
The moment came and he walked in; straw cowboy hat with a smile on his face, he asked: "Mohammad?" I responded: "yes," firmly shaking his hand and taking a seat at the nearest table. We began by ordering drinks and before I could say anything he said: "Do you want lunch? I'm buying." I thanked him for his generosity and could already feel a high sense of admiration towards him. I began by sharing a bit of my background and the type of work I do; reaching out to farmers and ranchers was the main point of discussion. I learned that I was reaching out in the worst possible time due to farming season. Instead of making phone calls, he encouraged me to go visit, even if it were to those who rejected me over the phone. He began openly sharing ideas and his own stories. Before I knew it, I was caught in his own world, deeply contemplating positive thoughts. He had mentioned that when he smiles, people think: "what is he up to now?" As a seasoned man who has already passed the age of retirement, Bob runs his own business and has been doing so for many years. I wholeheartedly enjoyed the maxims, ideas, and even the anecdotes of his time. He knew when and what to joke about, maintaining a decent sense of humor.
I began to gain optimism and realize that I should never give up, even if it were in an environment where natives discouraged aliens like me. Eager to listen more, there was so much to hear that I didn't want to interrupt him. It was a symphony to listen to his old stories and the advice he could pass on. A few of the important remarks he had made were in regards to how young people have many opportunities ahead of them. "Pursue all avenues," he said. Looking at such a seasoned gentleman with such perspective, made me deeply care for him and develop a strong reverence for his personality and character. His attitude is what makes him a recognized and persevered Montanan, having been continuously championing and pushing for a greater economy.
As an hour passed on, I was delighted to have met with this inspirational young man. Today, after meeting twice at 4B's, I regard Bob Sivertsen as a true friend that cares for the opportunities of all who pursue all avenues. Since then, I have managed to take confidence in proposing a questionnaire to farmers at the Farmers Market and reaching out to key contacts that can facilitate the outreach process. I am inspired and reminded of his attitude that encourages me to persevere through the many opportunities that lie ahead of me. Bob Sivertsen is a wonderful human being to be around and listen to; a human being that one can seek for a true friendship.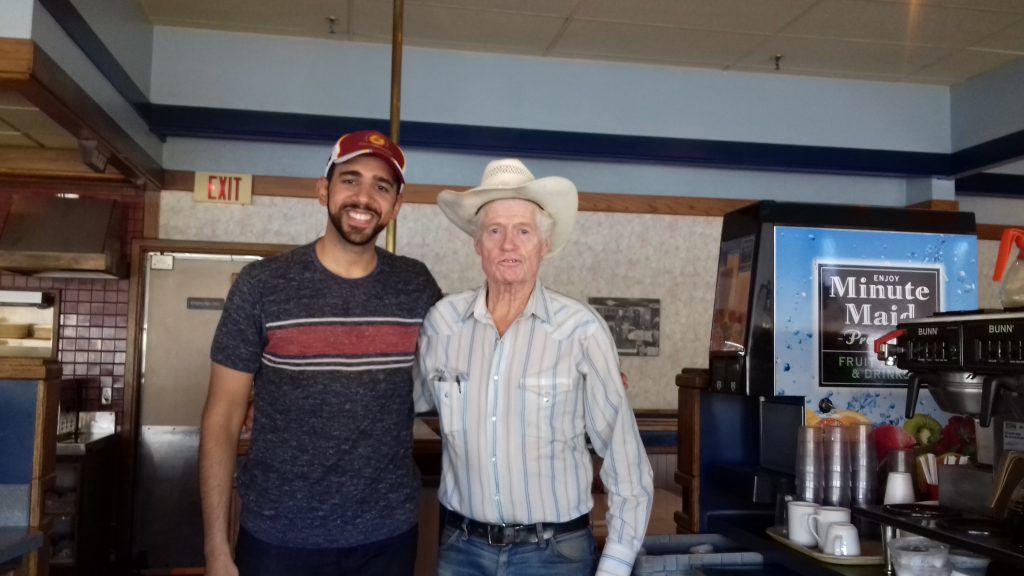 __________________________________________________________________________________________________

Mohammad Moustafa has an educational background in ethics, business, and management. In recent years Mohammad has had the aptitude to incorporate environmental science knowledge into his professional experience. Mohammad will be serving at the Montana State University-Northern Advanced Fuels Center and will assist the research scientist and their associate in the development and management of new science content, school summer activities, science camps and learning seminars.