by Max Longo
Nearly two months ago, I started an exciting journey as the Energy Corps Member, Energy and Climate Coordinator for Climate Smart Missoula. I'm extremely humbled by the opportunity to serve my community through the promotion of energy conservation for vulnerable, low-income residents and join a nonprofit I deeply admire.
Throughout the past few months, I've worked closely with a dynamic and inspiring team at Climate Smart. The primary project I've devoted my effort too is currently in a working title called "manufactured home rehab." The pilot project is designed as a community partnership with NeighborWorks Montana, Home Resource and Missoula Human Resource Council. It focuses on improving energy efficiency, health and quality of life for residents living in low income manufactured home communities. In past weeks, I've worked closely with experts who hold decades of experience enhancing energy efficiency in homes and improving quality of life for Missoulian's. The guidance I've received from community partners on the project and leadership from my direct supervisor has been a really rewarding and helpful experience as I attempt to construct a project from the bottom up.
I've learned that building a pilot project can be really challenging, involving many different dynamics. A pilot project needs a defined scope, a training scheme, a marketing and outreach campaign, grant funding and much more. Some of these concepts seemed simple to me on the surface but as I researched more on the best practices of manufactured home rehabilitation, I found that aspects of building this project are complex and included multiple different dimensions.  I started by doing a lot of research, attempting to gain a solid understanding of the landscape in terms of the need for manufactured home communities in Missoula. I found that defining the scope of the pilot project became confusing because different homes need different pathways of improvement when attempting to enhance energy efficiency and quality of life. A universal lit weatherization scope wouldn't work in our project because research indicated a major need for window, door, roof and skirting repair or replacement. It wouldn't be effective to implement a window insulation kit and weather-strip doors if the window is broken and the door has a hole in it.  This reality made our group decide to define our scope with many trajectories or pathways of improvement. While defining scope can be challenging, it's encouraging to know our pilot project is directly focusing on need and major improvements for people lives.
In order to understand true need of manufactured housing in Missoula, it was necessary to gain perspective from experts already focusing their efforts on these services in combination with extensive research on manufactured housing repairs in Montana. My service helping design the "manufactured home rehab "project engrained in me the importance of collaboration in project development. With a truly collaborative force, our project can effectively serve the needs of vulnerable community members.
Through watching and interacting with executive directors, I feel that I'm gaining the tools to be a more engaged and effective project developer and public servant. So far, collaboration with experts in the community has defined my experience and allowed my project to take flight. I hope to build on our collaborative force in order to fill a major need in the Missoula community.
___________________________________________________________________________________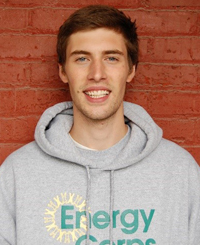 Max Longo holds a bachelor's degree in Political Science and a minor in Climate Change Studies from the University of Montana. Prior to Energy Corps, Max worked on issues of campus sustainability for the Associated Students of the University of Montana and has experience engaging with the community on issues of energy and climate from his work with 350 Missoula. Max joined Energy Corps in October 2017 and will serve at Climate Smart Missoula as an Energy and Climate Educator. He will work with community partners to design and launch a new project directed at enlisting volunteers to help weatherize and improve energy efficiency in low-income homes in Missoula. Additionally, he will craft educational and outreach material to engage the community on issues of local solar and clean energy success stories.