By Kathryn Eklund
As of a month ago, I became the Sustainability Coordinator Energy Corps Member for the City of Red Lodge. With 13 projects to take on and zero co-workers to lean on, my first month has been filled with its fair share of stress and self-doubt. To cope with this, I have made it my goal to be as prepared as possible for each situation I encounter. This coping mechanism became increasingly clear last week when I met with the Director of the Red Lodge Carnegie Library.
One of my goals for the year is to install a solar array on the library rooftop, and the first step in this process was to approach the library and ask their opinion. But before that, I did a mountain of preparation. I spent weeks putting together a rooftop solar panel analysis which projected kilowatt output, energy savings, and project costs. I studied up on the process of net-metering, the inner workings of solar panel technology, and the regulations put forth by NorthWestern Energy. I scoured the internet for fundraising ideas and grant opportunities and emailed strangers across the state hoping to get copies of successful applications and magic words of advice that would make my solar dreams come true. At the end of it all, I grabbed my neatly labeled information folder and met with the Library Director. We sat across from each other at a tiny table in the back of the library and kept our voices hushed. I showed her everything I had compiled and tried to woo her with the cost savings, grant opportunities, and technical know-how that I had acquired. But, her reaction was not what I had expected. I thought she would be hesitant about the money or have millions of questions regarding my calculations. Instead, she was psyched. She was 100% into it within 5 minutes of our conversation, and she wasn't all that concerned with the numbers and science. For her, the main selling point was the fact that I cared about the project and was willing to make it happen.
I walked out of the library feeling rather giddy and thought to myself, "that was easier than I thought." I realized that even though I don't have a team of specialists to turn to or a perfectly clear picture of how to do my job, I do have the support of the town I am serving. I am here and I care enough to try, and that seemed to carry more weight than all my technical wisdom. So, will I continue over-preparing – probably. But at the same time, I can rest easy knowing that my passion and patience count for a lot.
________________________________________________________________________________________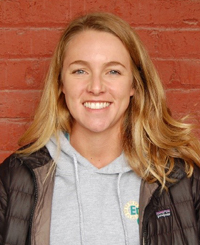 Kathryn Eklund holds a bachelor's degree in Environmental Studies and Anthropology from Eckerd College. Prior to Energy Corps, Kathryn worked for environmental consulting firms, conservation organizations, and in child development. Kathryn joined Energy Corps in October 2017 and will serve in the City of Red Lodge as a Sustainability Educator. She will assist them in reducing energy costs, improving their recycling program, and drafting carbon saving goals for the future. She will also monitor the impact of existing projects such as electric car charging stations and LED street lights.