Read about Emily's preparation for a MT winter:
If you asked me last winter where I saw myself living after college, I would have responded with somewhere tropical with ZERO chance of snow after enduring four freezing cold Vermont winters. And yet, here I am in Helena, MT, and I find myself eager for the mountains to be covered in snow and for the temperatures to drop. I think what I was craving was not a change of temperature, but a serious change of scenery. Bring on the winter, I'm ready for you Montana!
I was so excited to move here and start serving with Bike Walk Montana that each email I sent my supervisor Melinda had an increasingly aggressive amount of exclamation points. Fortunately, that excitement has remained 2 months into my service. I have so many ideas and projects that I want to work on that I have to take a step back so I don't fill my plate too much. Working with Melinda is inspiring- she's a well-known resource for all things bike/ped for the state and is incredibly passionate about making communities bikeable and walkable. While Helena certainly doesn't have the same energy about bike culture or infrastructure (minus mountain biking) that places like Missoula or Bozeman has, I've been introduced to an incredible group of people who are so willing to help our cause.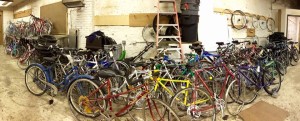 One project that I've undertaken as Project Manager is the Helena Bike Tower Sculpture Project, a public art installation in the form of a fire tower (Helena's symbol) made out of donated bicycles. Over 200 bikes were donated earlier in the year, and the over the course of the past few week, I have organized work nights for volunteers to help strip around 120 of the bikes. The turn out and support was overwhelming, and many of the same people came each week to support the project. I'm currently in the process of finding out how I can use the left over bikes to help start a Bike Kitchen in Helena- an idea that has received a lot of support so far. I hope to see that happen before my service term is up!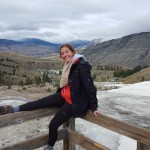 Overall, I couldn't be more satisfied with my new life in Montana. I feel so grateful to live in a place that surprises me with its natural beauty every time I walk to the office. I feel lucky to be working in a field that I care deeply about and hope to progress in. Most of all, I'm so happy to have found such an amazing group of people to share this adventure with (looking at you EC members!)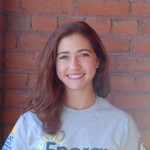 Emily Gluckin attended the University of Vermont in Burlington, VT, where she majored in Environmental Studies and minored in Green Building and Community Design. She focused her studies on how to create sustainable communities through improved design, technologies and community engagement. Emily is serving at Bike Walk Montana (BWMT) as their Alternative Transportation Educator. Her projects include education and outreach about safe biking and walking, organizing the BWMT Annual Summit, developing educational materials, web content, and newsletters, and further development BW Helena.