by Paul Edlund
During my time spent at the University of Montana and St. Patrick Hospital in Missoula, I have found that a college and a hospital share many common characteristics; one of those qualities is they are full of busy people.
The service term is wrapping up and my supervisors and I are looking back on the past year asking ourselves "How do we take what we have learned and share it in a meaningful way so the rest of the staff here can improve upon ourselves?" Over the past year, I've gone from dumpster diving, scrolling through thousands of lines of spreadsheets, to putting the finishing touches on the burgeoning Green Office Program at UM. How do we take our hard-earned knowledge, share, and present this valuable information to make a positive change on the platforms on which we are placed?
In this realm of environmental work, it seems as though those of us who are passionate about our work are constantly considering how to persuade the population at large that our work is valuable, influential, and relative. There are too many people creating too large of an environmental impact. It is our responsibility to advocate for better, more environmentally friendly strategies. As the sage Lorax would say, "I speak for the trees, for the trees have no tongues." We find ourselves spending an excess of energy attempting to create logical arguments that will convince our friends, coworkers, and occasional Facebook troll to change their behavior.
This phenomenon is no different at a hospital and university. Every staff member is on their way to another patient, another class, another surgery. Attempting to persuade a venerated doctor, nurse, or professor to think twice before they throw their coffee cup away is slightly more humbling when put into perspective that the nurse probably just addressed a cardiac arrest or the faculty member is finishing his or her doctoral thesis on racial stereotypes found in public advertising. Everyone has got their "thing," right? It just so happens environmentalist's "thing" is connected to the coming cataclysmic catastrophe of Climate Change, community health degradation, and local environmental impacts.
So what are the young environmentalists to do? We are intersecting professionals, governments, businesses, and families all in hopes to have one more person listen to us. Listen, understand, and change their behavior.
For me, and my supervisors, our answer lies in understanding our audience. Building upon our already established body of knowledge. And patiently educating and empathizing with those who don't want to listen.
I have been thinking a lot about culture, during my service. To be sure, I have been surrounded by a culture of busy people. Busy people who are saving lives and shaping the future with their research. But it is also a culture content to throw a plastic coffee cup into the recycling bin (Seriously! They go in the landfill, people!).
It seems to me the best way to positively influence culture is to consistently offer meaningful, empathetic education. Maybe in our line of work, meaningful education looks like having a brief conversation with a stranger and asking what is important to him or her. Armed, of course, with the latest research on environmental science and community health.
______________________________________________________________________________________________________________________________________________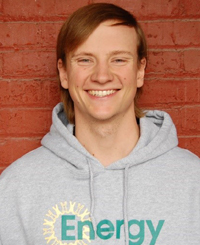 Paul Edlund holds a bachelor's degree in Environmental Studies with a minor in Climate Change Studies and a certificate in Sustainable Business from the University of Montana. Prior to Energy Corps, Paul assisted in the development the 2017 STARS (Sustainability Tracking And Rating System) report with the UM Sustainability Department. Paul joined Energy Corps in October 2017 and will serve in the City of Missoula at the University of Montana and St. Patrick's Hospital as a Sustainability Educator. He will develop sustainability reports to describe the sustainability of the two institutions and implement strategies to improve the quality of sustainability.