Read about Elyse's experience with public presentations during her first year of service:
When I first signed up to serve with Energy Corps, I'm not sure I completely understood that as part of the program I would have to give presentations to the public. It's probably a good thing because if I did know, I'm not sure I would have signed up. I very much dislike talking in front of people and up until this point I avoided it at all costs.
As the year went on, I became more and more anxious about having to give my presentations. While many Energy Corps members began presenting at the beginning of the year, I waited for the start of our cycling and driving etiquette campaign, Take the Hi Road, which was to come out in the spring/summer. Then, one day, the Optimist Club called our office out of the blue and asked for us to present at one of their meetings. I decided it was time to bite the bullet and schedule my first presentation.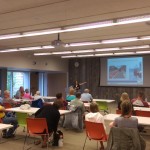 I was super nervous for the first presentation. I stayed up really late the night before practicing and worrying what the audience members would say and what they might throw at me. However, after an early morning cab ride and breakfast provided by the Optimists, I gave my presentation and everything went surprisingly well. Over the next few months, I gave about 10 presentations and after a while presenting became more comfortable. I still got nervous beforehand, but once I started speaking I got more relaxed.
Still, I tried to avoid being on the news like the plague. One day, my supervisor asked me if I wanted to join her on an interview. Just the suggestion made me light headed.
However, as fate would have it, my supervisor went out of town the week before we were to have a launch party for Take the Hi Road. A reporter called me and told me that she wanted to have us on the morning show the next day. With my supervisor still out of town, I decided to do the interview myself. I let the reporter know that I was really nervous about being on tv for the first time and she was nice enough to give me the questions beforehand so that I could prepare. In the end, everything went ok and I was happy with the result.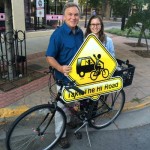 Being on the news and speaking in public is something that I would have never imagined doing a year ago. While I still can't say that I love being in the spotlight, I have learned how to deal with at least some of the pressure of being a spokesperson. While I still don't look forward to it, I do appreciate Energy Corps helping me to develop this skill. I know it will be very useful for many jobs to come.
Elyse Monat graduated from Tulane University with a B.A. in Environmental Studies and Spanish and a minor in Urban Studies. Because of her interest in sustainable transportation, she interned for IndyCog and Ride New Orleans, advocacy groups for biking and public transportation respectively. Elyse is currently serving with BikeNet Billings, assisting with programs that lead to more sustainable transportation in the community.