by Max Longo
For the past three months, I've primarily worked with nonprofit community partners on a pilot project to improve energy efficiency, health, and comfort of manufactured homes or mobile homes. We've defined the scope of our project, which takes a more comprehensive assessment of need and capacity than I first expected. When it's up and running, the project will offer a range of energy improvements for residents, from weatherization services such as air-sealing doors and windows to LED lights and other basic energy-saving measures to more complex upgrades that boost insulation R-values and significantly reduce heat loss. Currently, we are determining the best method for making major reductions in heat loss given cost and skill of labor – an objective that takes building local support and capacity to achieve.
The more complex upgrades can be challenging to implement because they require skilled labor and can be quite costly. For example, our team identified roof replacement as possibly the most prevalent home improvement need amongst manufactured home residents. However, when assessing the cost of replacement and skill of labor needed we determined that roofing improvements were outside our projects scope. We couldn't stop there. The team brainstormed and determined that improvements in skirting and the underbelly of manufactured homes would be a sufficient method for making massive energy cuts, furthermore material is generally less expensive and can use low skilled volunteer labor.
With our scope defined, we still wanted to find the best method for skirting and underbelly improvements and engaged community members with expertise in a variety of sectors to do so. With this goal, our team hosted a design charrette. We invited key stakeholders in Missoula from builders, architects, weatherization professionals, sustainable design instructors and manufactured home residents. They split into collaborative teams and designed different models of improvement that hit on our projects overall goals- energy efficiency, health and comfort and our criteria for improvement- long lasting, safe and affordable.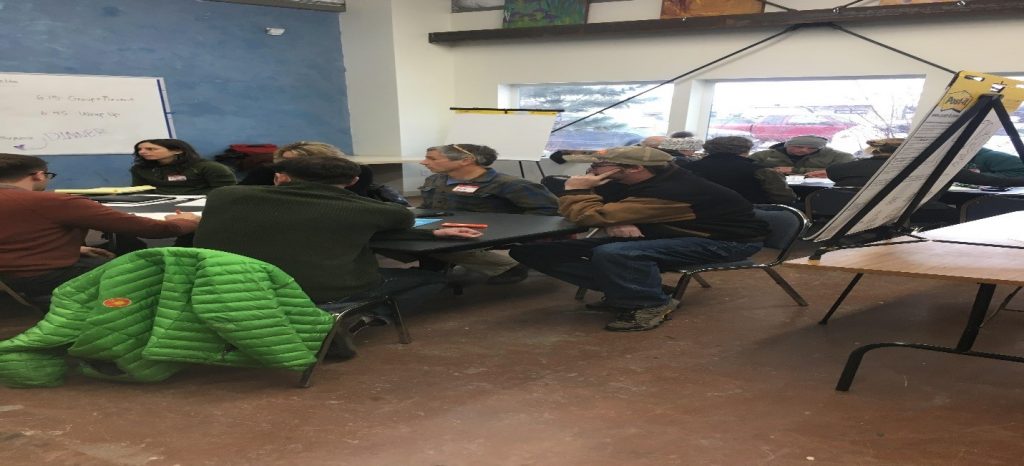 The event was a success! Our team now has really ingenious ideas for improvements in this sector. It was my first time ever planning or participating in a design charrette and it was really fun and informative.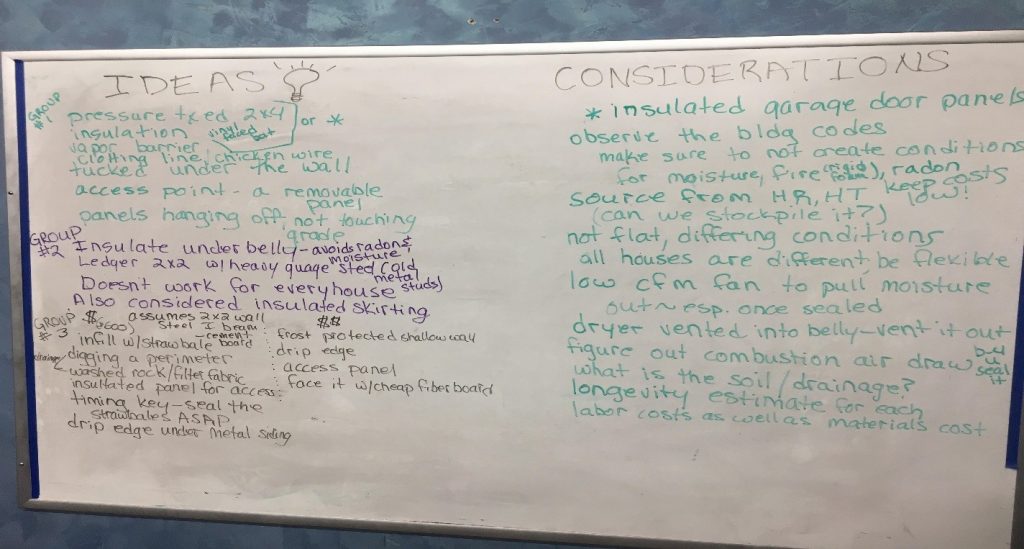 I gained a sense of the profound effect an energy retrofit can have on a person's life. During the charrette, a mobile home resident commented that the weatherization work the HRC recently did on her house allowed her "to be comfortable", and was extremely thankful that she " wasn't cold in the winter anymore".  The resident also said she's saving nearly "50$ on energy bills a month".  Speaking to residents personally about the benefits of weatherization was really encouraging. The models provided at the design charrette could potentially improve many community members' lives, making their homes more comfortable, energy efficient and healthy. The event made me understand the importance of capacity building when trying to navigate through the challenges of project development.
______________________________________________________________________________________________________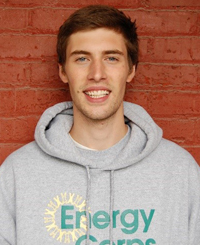 Max Longo holds a bachelor's degree in Political Science and a minor in Climate Change Studies from the University of Montana. Prior to Energy Corps, Max worked on issues of campus sustainability for the Associated Students of the University of Montana and has experience engaging with the community on issues of energy and climate from his work with 350 Missoula. Max joined Energy Corps in October 2017 and will serve at Climate Smart Missoula as an Energy and Climate Educator. He will work with community partners to design and launch a new project directed at enlisting volunteers to help weatherize and improve energy efficiency in low-income homes in Missoula. Additionally, he will craft educational and outreach material to engage the community on issues of local solar and clean energy success stories.