by Tristen Payne
Things are warming up. Everyone working on the SIFT farm is quite happy that we finally passed what was potentially the last night of frost on July fourth. There is no longer a lingering threat of damaged or lost crops from frost, and now we can push to full production, and begin to harvest what has fully developed. From strawberries, lettuce, and spinach, to carrots, melons, squash, and all the other wonderful species we have sown; each addition to the farm has created quite a different setting from when I initially started in October. What was initially a winter wonderland has been evolving into a lush and colorful landscape. After all the preparation and sweat, we finally get to reap the reward of cultivating that landscape. Being able to see each hoop house, greenhouse, and nearly all plots growing a variety of produce, and being able to begin to harvest that produce for donations to the local community made every minute worthwhile.
What makes all the hard work even sweeter is that all of our production is donated to local segments of the community. Currently, we have been focusing on donations towards the Food Bank, the Dish-Ability food truck and associated training classes, and the Heart of Butte. Each one of these groups focuses on promoting a healthy community and reducing the impact of poverty. I am lucky to be able to help these wonderful individuals make a difference with sustainable produce. With planned expansion and increased supply of produce in the future, we can hopefully foster more relationships and provide a larger range of resources to like-minded groups. From everyone at the SIFT farm, we want to give a big thank you to all of the people working hard to make a difference in our community. Hopefully, all of our efforts can help make a substantial difference in our community, but more importantly in the lives of each individual.
_________________________________________________________________________________________________________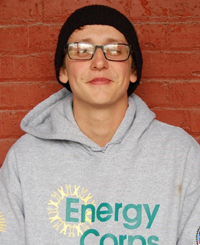 Tristen Payne holds a bachelor's degree in Environmental Economics and a minor in Energy Policy from Western Washington University. Prior to Energy Corps, Tristen was employed by the Army Corps of Engineers and also worked in healthcare at Adventist Health and Kroger. Tristen joined Energy Corps in October 2017 and will serve at the National Center for Appropriate Technology in Butte as a Farm Energy Educator. He will develop farm energy education materials, conduct energy audits, research efficiency improvements, and work on public outreach.