Read about Alanna's impressions of her new host site surroundings:
Snow still falls every night in West Glacier, but the sun lets me keep its company longer now than even a week ago. Winter hangs on the land like the last leaves hang onto branches. Yesterday after dinner I went walking on the bike path connecting Glacier National Park's housing campus with Going to the Sun Road. The path was thick with snow, my feet falling several inches to hard ground. I am the only sound I hear, self-conscious of my noise, suddenly out of place and guilty, embarrassed for disrupting the stillness. I look around me, hoping no other humans witnessed my invasion, like a traveler in a foreign land who can't speak the language. Then I see a deer 30 feet ahead of me, rump facing my direction, head turned to watch me stumble. I stop and turn to my right finding another deer 15 feet away staring at me with doe eyes, motionless, probing. As I kept looking around me, eight more deer appear half hidden beneath pine trees all no more than 30 feet away looking directly at me. Having lived my entire life in Montana, I have seen many deer. In my yard, on the street, bloated and rotting on the side of the bloodied interstate. Even when hiking it has always seemed as if the deer cross my path, I don't cross theirs. But here I was the one being observed, object/subject roles changed without my consent. Unsure, I found my voice and told them I was going to keep walking, don't mind me. I continued my stumble, hyper aware of snow crunching beneath me and the twitch of their muscles as I neared, ready to bolt as soon as I cross some invisible line.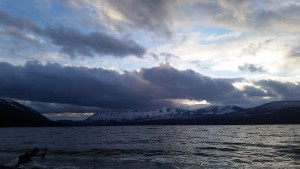 A different evening, I found myself on the shores of Lake MacDonald, water lapping in the breeze, the sun finally shining through stratocumulus clouds. I don't think I've ever felt so alone on the lake. Normally vehicles line Going to the Sun Road, circumventing one of the most iconic lakes in the park, but this evening all I heard was the water and the wind, not even a single car passing by.
Glacier National Park constitutes one of the most beautiful and ecologically important areas in the Northern Rocky Mountains. Moments such as these should seem like commonplace occurrences, a solitude awarded to anyone willing to venture out of their cars and off the roads. And during the long winter months that certainly seems true. Between May and September, however, the park sees over two million visitors per season. No one ever finds themselves all alone on the shores of Lake MacDonald. Instead, cars line Going to the Sun Road, traffic moves to a slow crawl or stops altogether, and the park buzzes with human and nonhuman life. 2016 is a more special year than most for the park as well, for it's celebrating the National Park Service's Centennial Anniversary.
With this massive influx of park visitors, however, come various issues. Idling traffic accounts for 80% of the park's greenhouse gas emissions. The solid waste stream can overbear recycling operations put into place, particularly in East Glacier. As employees fill old park residences season after season, retrofits become more and more of an impetus in order to secure energy efficient buildings. Carbon emissions and climate change are drastically affecting the ecosystems and landscape of Glacier, and the need to address these issues persists. As the Sustainable Educator for the Crown of the Continent Research and Learning Center, I, with the invaluable input of park employees and concessionaires visitors and surrounding communities, hope to break ground developing a community sustainability plan for Glacier National Park in order to address goals and objectives of current sustainability initiatives while developing and expanding the park's sustainable aims for the next five years. Translating these goals for park staff, the surrounding community, and visitors remains integral in communicating and fostering sustainability at Glacier and beyond.
The beauty of the park should remain accessible — and intact —  for the benefit of all for a plethora of reasons, and the high rate of visitor inflow provides an amazing opportunity to expand sustainability outside of the park's borders.  But for now, with another month remaining before the season officially starts, I will take selfish joy in experiencing the soft repose of quiet moments so many don't have the opportunity to live. As Annie Dillard reminds us, "The answer must be, I think, that beauty and grace are performed whether or not we will or sense them. The least we can do is try to be there."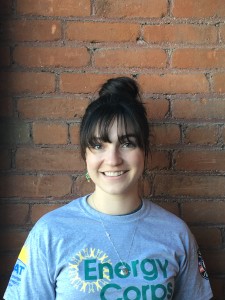 Alanna Wulf grew up in Billings, MT and graduated from the University of Montana with a degree in Environmental Studies. While in college, Alanna served as the Outreach coordinator for UM Recycle, collecting recycling data, promoting recycling through outreach, and hosting events such as a clothing drive. Alanna will be serving with the Crown of the Continent Research and Learning Center in Glacier National Park in West Glacier, MT. She will break ground with a community sustainability plan as she works to create a sustainable culture in the park including visitors, staff, and the surrounding community. The plan will address recycling, energy efficiency, transportation, and night skies. Alanna will provide education and training to part staff, partners, and visitors, so everyone will understand the value of implementing green and sustainable practices in all possible operations.