By Katelynn Essig:
When I started my second year of Energy Corps in October, I thought I was going to be more motivated; its like I could feel the impending doom of election night waiting on the horizon. I moved through the first month with relative ease, working on management plans for the electric vehicle charging stations I installed and the LED streetlight retrofit I completed. Then the month of November hit and I was sucked dry of all enthusiasm. I was working but not with the same fervor. Before Thanksgiving, I was invited to have dinner with several older people in the community to talk about Climate Change. When we first gathered, there was a lot of tension and anxiety over the election. They asked me if I was worried about coal making a come back and what grassroots efforts were happening in our state. They wondered about the future of renewable energy and the EPA. I realized they had turned to me, the Energy Corps, for advice and guidance on what to do and how to help. This was the first time in my life where older generations were looking to me, the younger generation, for answers. Not only were they concerned about the future but also for my generation. I gave them my best answers from what I'd learned in the field and in professional op-eds. Even though I was feeling pretty pessimistic, I didn't let them see that side and we left the evening on a high note.
The significance of this older crew coming to a younger generation for answers didn't really sink in until a couple of weeks later when I gave my quarterly update to the City Council on the progress of my projects. This month, the Council room was packed. Juggling so many projects, I was a little nervous about hitting all my points, considering I had to convince Council to budget me $13,000 to retrofit our City buildings to LED and ask for a legal expenditure. I spoke for 30 minutes, engaging the council and community members. I noticed a similar experience happening; people were seeing my small, minute projects as action. I had engaged and interested my community in a relatively boring report. I felt really good about it; proud of all the work I didn't even notice I had accomplished in the last three months. The council thanked me endlessly for all the work I did and again, we ended on a high note.
When I had my "I nailed it" moment after the Council update, I thought about last month when I was so pissed off at the world and remembered the look on the faces of those I had reassured. I managed to convince folks renewable energy is on a seriously awesome upswing and that my projects are showing real energy savings. If I could sway everyone around me things are okay, why hadn't I swayed myself? I wish I had an answer… I think it is easy to question your impact working at the local level in positions like Energy Corps, however, we must learn it is quite the opposite. I firmly believe the main reason I was so successful the last year and a half is because of that local juncture. Thick skin is an innate asset to this career field and will always be tested. But that toughness must be recognized as evolution because it is really about allowing our being to feel empowered by the work we do and to be swayed confidently in a direction of self-imposed gratification. So for all of us in public service, let us sway as we go.
---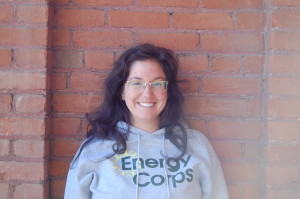 Katelynn Essig has a Master's Degree from the University of Illinois in Sustainable Development and Policy. She's also worked on Economic Development issues for the City of Oregon City in Oregon while serving in Resource Assistance for Rural Environments AmeriCorps program through the University of Oregon. Katelynn is serving her second term with Energy Corps as the Sustainability Coordinator for the City of Red Lodge. She had big success in her first term by installing 4 electric vehicle charging stations, completing solar analyses, and installing LED light bulbs in 14 of the City's streetlights.