Read about Becca's projects and collaborative experiences through her service:
When I learned about the Energy Corps positions in Montana, I saw an opportunity to return to Missoula after spending over a year living in both Washington, D.C., and Germany.  As I sit here now, five months into my term, my projects are coming together, and Montana has transformed into a glorious winter wonderland.
My position is split between two host sites–Climate Smart Missoula and Home ReSource. For a bit of background, Home ReSource is a building materials reuse center. I like to think of it as large scale recycling. Basically, building materials from construction, demolition, or any sort of renovation or small project can be taken to Home ReSource instead of the dump. This could be cabinets from a kitchen, an old tub, nuts and bolts, plywood, or paint.
Climate Smart Missoula is a local non-profit dedicated to fostering partnerships to create and work on local climate initiatives. Climate Smart has twelve focus areas, or 'buckets', including transportation, forestry, renewable energy, and zero waste. During my time at the University of Montana, I moderated at both a campus and community conversation on climate change. As part of the Climate Change Studies program, I was volunteering for professor Nicky Phear. It feels as though things came full circle for me, since Climate Smart Missoula came out of those community conversations on climate change. I am thrilled to be back in Missoula with a position that allows me to dedicate time to working on this new initiative.
I feel as though I am learning a lot from serving at Climate Smart Missoula and Home ReSource at the same time.  Not only do I have access to two sets of supervisors, staff, and mentors–but also into the structure and management of two linked but different non-profits. Home ReSource has been around for over ten years while Climate Smart is in year one. Having known about both of these non-profits before I applied to Energy Corps, I was drawn to my position in particular. They are focused not only on the environment, but also in creating a more resilient community.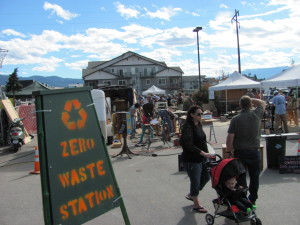 At Home ReSource, I have been working on our Zero Waste Ambassadors Program (ZWAP), deconstruction education, Zero Waste Missoula, the Zero Waste City Council Resolution, and community outreach. At Climate Smart Missoula, things have picked up, and we are working on myriad projects including a greenhouse gas inventory for Missoula, a community art project, monthly meetups at Imagine Nation Brewing, and Summer Smart. The past months have allowed me time to reflect on my work at both my host sites. Recently, I have been considering the different ways we approach and communicate environmental issues, particularly related to climate change and waste reduction.
Through Home ReSource, I have collaborated with both Home ReSource employees as well as Chase Jones and fellow Energy Corps member Chris at the City of Missoula. We crafted deconstruction education materials for contractors. Deconstruction is an environmentally-friendly alternative to demolition. Trained deconstruction crews carefully deconstruct the building to salvage as many of the recyclable or reusable materials as possible, diverting them from local landfills. Salvaged items typically include doors, windows, cabinets, lighting and plumbing fixtures, framing lumber, roofing materials, and flooring. Materials fit for reuse are donated to non-profits like Home ReSource, where contractors receive a tax deduction. Materials from construction and demolition account for 40% of municipal solid waste that goes to landfills nationwide. These materials could be diverted for reuse, a path that both benefits local economies and decreases landfill costs and use. Home ReSource has it's own, self-sustaining deconstruction crew that bids on demolition jobs like any other contractor.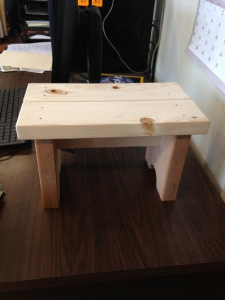 I have been participating in Home ReSource's Make Something classes. This is a step stool I crafted out of salvaged wood. I also built a coat rack. These classes are a great opportunity for hands-on learning about reuse!
The City of Missoula has been both helpful and willing to distribute these educational materials, as well as an optional deconstruction job site survey, to contractors when they apply for permits. Cities around the US, including Boulder, Colorado, and Berkeley, California, have regulations or ordinances requiring deconstruction. Although a deconstruction ordinance was previously explored as an option in Missoula, state law currently prohibits stricter local laws, as compared to pre-existing state laws, on construction and demolition. This is a good first step and could be a major piece of waste reduction in Missoula.
We are going full speed ahead on waste reduction, and Home ReSource right in the midst of the Zero Waste Ambassadors Program, or ZWAP, that kicked off this month. This educational program is geared towards 5th through 7th grades in Missoula. Our goal is to have all 5th grade classes in Missoula participate in the program, build knowledge about waste reduction, and serve as Zero Waste ambassadors to their families and communities. Coordinating with teachers around Missoula is a bit of a challenge, but things are coming together, and so far the teaching experience has been great. The program includes both a classroom visit and a field trip to Home ReSource. This education will be a key piece of engaging students in a positive way, and spreading information about waste reduction to the broader Missoula community.
I am also working on education and outreach at Climate Smart, but the projects focus on building adaptation and resilience in the face of climate change and are taking shape in different ways. My supervisor, Amy, has supported me in pursuing a community art project focused on adaptation and resilience. I connected with one of my previous art professors at the University of Montana as well as several art students. This exhibition will take shape in the form of an open air art show in April and May. The working title is "Resilience and Adaptation". Twelve teams of 3 to 5 people will collaborate to create pieces on large panels made out of repurposed, hollow doors from Home ReSource. The art show is intended to inspire a community conversation on what climate resilience and adaptation means for Missoula, as well as to engage students, scientists, artists, and policy makers across campus and the community. Anyone can be on a team, and we are hoping for multi-generational teams that involve k12 and university students as well as other community members.
I see this project as positive way to bring the conversation on climate change to the forefront in Missoula. I recently read a salient article on why people struggle to both care about and take action on climate change. One of the most striking aspects of the article was the assertion that positive messaging is an important piece of engaging the public.
"Thus, today, global warming is the biggest story that has never been told. Recently I think we've seen a change in coverage, for instance in The Guardian. The main shift is to telling stories about the people making the change happen; focusing on opportunities, solutions, and true green growth. From psychology, we know that the best mix to create engagement and creativity is a [ratio] of one to three in negative to positive stories. My own research has resulted in four main groups of narratives that are and need to be told: a) green growth opportunities, b) better quality of life, i.e. what does a low-carbon society look like? c) the ethical stewardship story, and finally, d) stories on re-wilding and the resilience of nature. The more people start believing we can create a better society with lower emissions, the sooner they can start taking action."      –Per Espen Stoknes–
Art and storytelling seem like an important piece of starting this conversation. I am developing a deep appreciation for the way Climate Smart Missoula conducts business. Although in year one as a non-profit, Climate Smart is focused on fostering partnership to create and support local action on climate. As alarming and important as pictures of struggling polar bears are to the cause, positive messaging and positive, local action are also a critical piece of the equation. If you are interested in reading the full article, check it out here.
Missoula is a notably vigilant and active community, especially when it comes to the environment, but we still have a long ways to go when it comes to both mitigating our carbon footprint and adapting to the local effects of climate change. I am excited to dive into our community greenhouse gas inventory and continue work on our Summer Smart project, which is focused on addressing the health impacts of increased wildfire smoke in Missoula. We are conducting a Community Readiness Assessment to determine the knowledge and readiness of Missoulians for programs that provide options to adapt to increasing wildfire smoke and help mitigate negative effects to public health.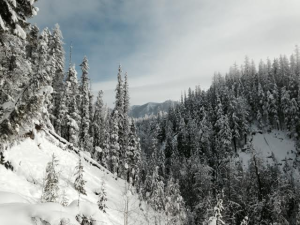 In addition to these projects, I've also had the opportunity to develop my Adobe and graphic design skills through working on outreach materials for both Climate Smart Missoula and Home ReSource. In my off time, I've spent time getting to know some of the other Energy Corps members, connecting with old friends, and adventuring in the great outdoors! Skiing has been a priority, and I even had a chance to head up to Glacier National Park for a winter adventure. My work is fulfilling, and Montana still feels like home.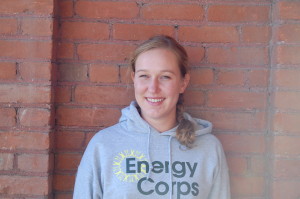 Rebecca Boslough graduated in May 2014 from the University of Montana with a Bachelor of Science in Natural Resource Conservation and minors in Climate Change Studies and Wilderness Studies. Her experience includes positions with the Forest Service, Wilderness Society, and in the Office of Senator Jon Tester. She just returned from a yearlong fellowship in Germany where I had language training and worked at the Leibniz Institute for Baltic Sea Research. Rebecca is currently serving with Home Resource and Climate Smart Missoula. At Home Resource, she will help build a fifth grade education program and provide support for Missoula to become a Zero-Waste community. At Climate Smart Missoula she will engage in various projects related to advancing energy and climate initiatives.