By Jennifer Walter
The first week in the Opportunity Link office I was shown a stack of books they use for reference. While I was learning what projects were in progress I picked a book to read so I would have more background knowledge on the subject. The first book I picked up was Bob Quinn's book Grain by Grain. It tells how he became an organic farmer and started growing a strain of ancient wheat. It was a great read and addressed a lot of problems with our food production system. By the end of it, I was really impressed with all he has accomplished.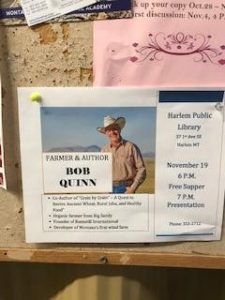 A few weeks later my boss sends me a picture of a flyer she saw in the post office and it turns out Bob Quinn was presenting at the library in Harlem. Of course, the day it falls on is when it decides to snow. When I arrived I walk in and it seems to be everyone's parents or grandparents, I was by far the youngest. Everyone was super friendly and welcoming. They took me around the room introducing themselves, their friends plus their occupation, asking me what my name was.  (You could tell they were trying to figure out if they recognized my family name).  It was quite the community event, everyone was catching up and or crocheting.
When Bob Quinn showed up we started serving food for supper. I ended up sitting across from him and I told him I was an AmeriCorps member and what I was doing here.  Bob Quinn mentioned he has been working the Rocky Boy reservation and they were going to be putting in a stone grind mill soon so the reservation can produce and sell their own wheat flour, which is great, I'll definitely have to check it out sometime.
After supper, we all went into the other room for his presentation and he handed out little snack packets called Kracklin Kumut. It's a brand wheat snack with sea salt and it was quite tasty. If you see this in the grocery store from Big Sandy Organics or Montana Flour and Grains these are Bob Quinn's businesses. He discussed how he graduated with a Ph.D. in Botany, how he started growing organic on his family farm, and all the medical research he has done on Kamut, showing it helps people with IBS, heart disease, and diabetes. Right at the end, he was talking about all the places he travels to help educate or set up new farmers. The last one was in Mongolia and they asked him to come out because Montana has a similar environment. Their government just passed a law on organic farming and they wanted his help troubleshooting with growing wheat. I thought it was amazing he has been all over the world and is known for his organic ancient wheat yet until I moved here, I never even heard of him.
I never really thought about what enriched flour at the grocery store means or even heard of ancient grain flour.  Just hearing about all the nutrients wheat is supposed to have, it is crazy. Modern wheat does not even come close to the real thing. I really enjoyed meeting Bob and learning about wheat. If you ever have the chance to read his book it's quite an eye-opener.