Read about Emily's motivation during a Montana winter:
Winter is a hard time to encourage people to walk and bike- I can't even convince MYSELF to do so when it's cold and snowing outside. The past few months have given me time to prepare for the hectic spring/summer, and spend time reflecting on what I'd like my role to be with Bike Walk Montana. The Energy Corps MLK Day Weatherization event came at the perfect time- I had been struggling to find ways to incorporate energy education into my position and needed something to reboot my personal motivation.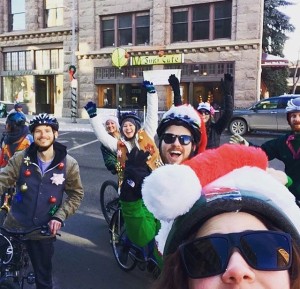 I had spent plenty of time in college courses learning about weatherization and energy efficiency measures, which really piqued my interest. It made so much more sense to me to focus on reducing our energy consumption overall, than trying to create enough renewable energy sources to cover our current demand. I was hooked on energy conservation, and was so grateful for an opportunity to physically practice this idea. The weatherization training gave me concrete practice and knowledge to refer to, and a chance to experience how different people respond to these services.
Another opportunity that came at a time when I needed a second wind is Climate Hike. My supervisor asked if I would be willing to participate in a 5 day hike in August through Glacier National Park with an organization called Climate Ride to raise awareness about active transportation and fundraise for Bike Walk Montana. I took approximately half a millisecond to say yes! I'm excited to have a vehicle to spread information about sustainability and active transportation issues, which happen to be two of my favorite things. This experience will be a lot of firsts. For starters, I have never raised a large amount of money (my goal is $2,800), so this will be a lot of trial and error to see what methods work the best. Secondly, I have never hiked long distance, and I have never hiked in an area where bears could be lurking. I'm intimidated, but excited for the challenge!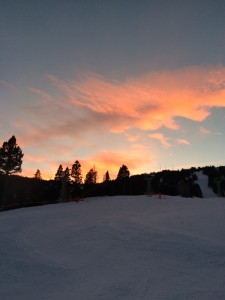 I'm feeling rejuvenated after this long winter, inspired and motivated for the rest of my service term. I have renewed energy to GET THINGS DONE (for America) and feel clarity about what my priorities are. With the approaching spring, it seems like people are beginning to come out of hibernation and filling Helena with life again. I'm hopeful that this energy will lead to exciting things moving forward.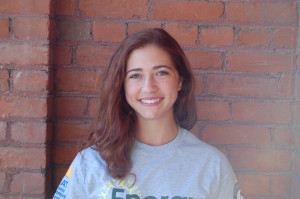 Emily Gluckin attended the University of Vermont in Burlington, VT, where she majored in Environmental Studies and minored in Green Building and Community Design. She focused her studies on how to create sustainable communities through improved design, technologies and community engagement. Emily is serving at Bike Walk Montana (BWMT) as their Alternative Transportation Educator. Her projects include education and outreach about safe biking and walking, organizing the BWMT Annual Summit, developing educational materials, web content, and newsletters, and further development BW Helena.