By Jazzmyn Mullen
Before I started my Energy Corps service I knew little about plastic and the energy required to make it and recycle it.  Since starting my service as the SMART Schools Coordinator, my eyes have been opened to how plastic is literally everywhere!  Plastic is good for the medical field like IV bags, sterile syringes, and the sucker they use at the dentist office, you get the picture.  That is not the type of plastic that I am going to focus on, because I can't argue that all plastic is bad.  However, humans have created 8.3 billion metric tons of plastic.  About 40 percent of this plastic is used for packaging material.  Next time you take a step into a store just take a second to look around at all the things that are wrapped in plastic.  Plastic is created from oil, and this is a nonrenewable resource.  In 2012 the United States Energy Information Administration (EIA) estimated that 2,595,880,00 barrels of oil were used to manufacture plastic in one year!  One barrel of oil is 42 gallons!  Thus, the rate that we are generating plastic is unsustainable and is affecting life on earth.
A video of a sea turtle with a straw up its nose went viral when biologist recorded the process of pulling the straw out.  If you haven't seen a video like this, you may or may not want to check it out depending on how queasy your stomach is.  After watching this video, I asked myself, can plastic waste flow from Montana to the ocean?   I happened to stumble upon the statistic that 80% of marine plastic debris originates from the mainland.  I would say that it is possible for plastic to flow into the Gulf of Mexico if you live on the east side of the Continental Divide and it may flow into the Pacific Ocean if you live on the west side of the divide.  Even if plastic doesn't make it into the ocean, microplastics have already been found in Montana watersheds (Figure 1).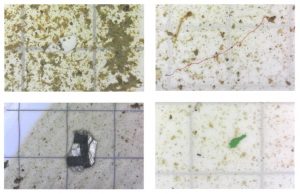 Figure 1. Microplastic identification starting top left working clock wise:  polystyrene fragment, red fiber, film, and fragment from rigid plastic.  This picture and label was found at https://environmentmontana.org/reports/mte/microplastic-montana
A study of 50 fishing access sites in Montana was conducted in the summer of 2019 by Environment Montana, a nonprofit organization in Missoula. The study found that 33 out of the 50 sites had the presence of microplastics.  Two of these fishing accesses were on the Yellowstone River in Livingston, Montana.
Sleeping Giant Middle School in Livingston is participating in the SMART Schools Greening Challenge.  When I presented at their school I spoke about microplastics.  It wasn't until I was able to speak with the science teacher face-to-face that I discovered he also went out with his students to conduct their own microplastic study.  When the class went to the fishing access sites, they did not note any microplastic.  It is hard to conclude why the middle school class did not identify microplastics and another study did.  There have been very few studies done on microplastics in freshwater environments.  Currently, we know little about the biological effects in freshwater.
Educators, like the science teacher in Livingston, challenge their students to be aware of how humans affect their watersheds.  Meeting this educator was an inspiration.  He designed, built, and programmed an augmented virtual reality sand box (Figure 2) in his classroom to introduce watersheds and topography.  After observing and presenting to these students, I know that some of the next generation will strive to protect our drinking water and aquatic life for years to come.
Figure 2. Augmented Virtual Reality Sandbox at Sleeping Giant Middle School, in Livingston, MT