By Jennifer Walter
I finally got everything delivered! It took weeks for the nutrients to get in. I guess everyone is trying to do hydroponics during COVID-19. As for my setup for the sweetgrass experiment, I ended up getting 2 five gallon buckets and painted them green so light cannot get through and grow algae in the water. Then I ended up using my wood burning machine to burn through the lid to create the hole for the nursery pot. (I did not have a screw gun or drill bit). I went with 5-gallon buckets because this plant mostly grows by their roots (it is a rhizomatous perennial) and I wanted to make sure the plants had enough room and would not clog the system. After I cleaned the plant roots and placed them in the nursery pot, I cut sections of a pool noodle to help support the plant, and it works quite well, plus it is reusable and cheap.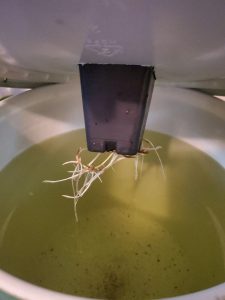 I hooked up my shop light on a couple of pulleys and hung it with some paracord from a pipe in my apartment. The other plants I am trying to grow include microgreens in Tupperware units, cabbage, and various herbs in old pickle jars. I did leave one jar uncovered to see how fast algae grew. (It took about a week).
The variables I am tracking for this experiment include nutrient water levels, ph levels, number of new growth, as well as the height and visual observations. I also kept a few plants in soil to compare to the other plants growing hydroponically. So far the experiment is going well. Considering I live in a basement apartment, it will definitely be a true test.
Before quarantine, I planned on doing workshops and teaching people how to build popular systems along with everything they needed to know to start hydroponics. Then I figured I could teach myself how to video edit and make a series of videos, teaching people that way.  Now, I am leaning more towards doing a video call so people can ask questions and I can answer in real-time maybe even talk them through or do a demonstration through the call. I think this method is closest to a normal workshop, and it is a little more personal and interactive. I'll still try and do the videos, but I think the video call is the best option. I am excited to get started on this aspect of the project!