By Alanna Wulf:
After a long winter spent in a snow globe, the last patches of snow in Glacier National Park Headquarters are melting and soft green needles are emerging from the Larch trees. Bikers dot Going-to-the-Sun Road with bear spray strapped to their backpacks. Spring actualizes, no longer a daydream mocking me at every lapse in consciousness, and the visitor season begins.
Undoubtedly spring and summer breathe life into every animal and person lucky enough to be in the park. The change in seasons also bring record numbers of crowds. Last year over 2.9 million people visited the park, a 24% increase from the 2015 visitation rate. The visitation rate for the 2017 season gives every indication that it will exceed 2016's rate. With the increase visitation comes a significant influx of vehicle travel along the famous Going-to-the-Sun Road, bottleneck areas, limited-to-no parking availability, idling cars, and the greatest proportion of greenhouse gas emissions in Glacier.
Each year the park confronts very important and immediate questions as to how management will handle transportation, and each year those questions become increasingly difficult to answer. How do we provide a high quality visitor experience while addressing the high impact cars have along this crucial wildlife corridor? How do we provide a high quality visitor experience while addressing the ever increasing carbon emissions from vehicle and employee transportation? How do we remain a poster child for climate change messaging and imaging while effectively mitigating the factors exacerbating climate change itself?
Although Glacier offers a free shuttle service to visitors, the fleet is currently operating at full capacity with every available shuttle in use with each shuttle completely full during the busiest part of the season. At this time, the park does not have the funding to permanently expand the fleet, the personnel to manage and operate an increased fleet, nor the space necessary to house the fleet. People often resort to hitchhiking. With such limited parking space, visitors end up parking on grass off to the side of the road which is dangerous and damaging to plant and wildlife. And guess what? The transportation problem is only going to grow.
Prior to the Centennial year of the National Park Service a question shot forth: Can you love your National Park to death? With broad increases in visitations to National Parks all over the US, an imminent problem has arisen. Greenhouse gases spew into our atmosphere from our cars as we drive in massive droves to the last refuges from civilization. In Glacier we idle for hours waiting to snatch one of the few parking places at Logan Pass; we sit in our running cars when (frequent) bear jams occur. The National Parks Service's job to "conserve the scenery and the natural and historic objects and the wildlife therein" has been hindered by its job to "provide for the enjoyment of the same in such manner and by such means as will leave them unimpaired for the enjoyment of future generations." Questions abound. How can we effectively do both? The beauty of the natural world, of Glacier National Park, and every other protected public land must be shared, but at what cost? How can we effectively conserve the land while leaving it unimpaired for the enjoyment of future generations as we currently struggle to preserve it for current generations?
I do not have the answer; I don't think any of us do. Unfortunately, however, we have reached a tipping point. Future generation will not know the awe and power of basking in the presence of glaciers. The ability even for current generations to see these famed glaciers is at serious risk. But we have a duty as a National Park dedicated to sustainability to work towards a meaningful, and timely, solution.
I feel a unique mix of determination and frustration serving with Glacier National Park as an Energy Corps AmeriCorps member. Climate change feels insurmountable. That is why developing strong partnerships with the community surrounding Glacier is so important. No man – or organization – is an island, especially when confronting transportation issues in a rural area. Creating partnerships within the Flathead Valley like Climate Smart Glacier Country, a nonprofit organization that includes Glacier National Park, city governments, local utility companies, and concerned local citizens, is a first step towards addressing the transportation and other climate issues specific to the Park and the area. I have hope that working together will bring about innovative solutions to our local climate issues. In the face of such obstacles, occasionally I find it difficult to not dwell in the idea of impossibility. But I reject willful ignorance, for to be human and to be in the environmental field, there is no other choice.
---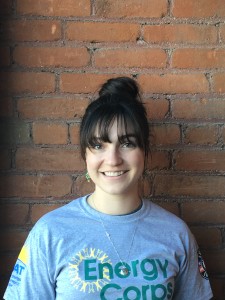 Alanna Wulf graduated from the University of Montana with a B.A. in Environmental Studies and Spanish. While at UM, she served as the UM Recycle Outreach Coordinator. She began her first term with Energy Corps in March of 2016, and is excited to continue her service in Glacier National Park.