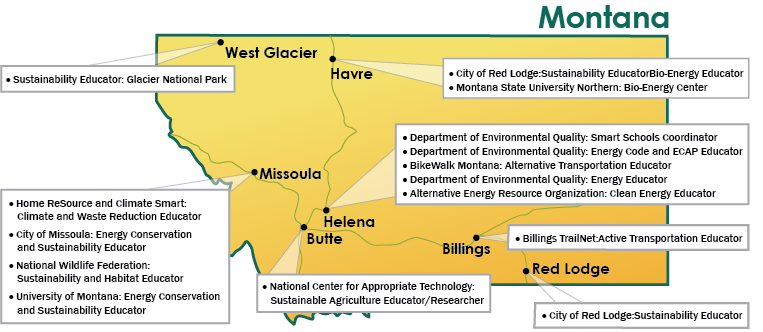 Missoula, MT
Home ReSource and Climate Smart ~ Climate and Waste Reduction Educator

Home ReSource: This Energy Corps member is instrumental in building a fifth grade education program and providing the capacity to deliver it. Additionally, the member is directly involved in building the community support and leadership necessary to make Missoula a Zero Waste community.
Educational program development
Zero Waste Community Initiatives

Climate Smart Missoula: This Energy Corps member works closely with the Director and fully participates in the cross-sector community Leadership Team working to advance energy and climate initiatives. The member helps set strategic direction and assists with the Climate Smart Missoula project.
S/he also helps co-develop a program with the City of Missoula and Climate Smart to measure community greenhouse gas emissions and other climate metrics, collect data, develop report, and present findings
Develops educational materials and initiatives with community partners around the interface of climate, energy, local food and agriculture, and more
Helps develop and implement strategies for the Missoula Community on issues surrounding wildfire smoke, addressing vulnerable populations, social equity, and climate preparedness
Crafts creative outreach materials and website and social media content and represents Climate Smart at community events
Works creatively to inspire a more positive and tangible discourse around climate change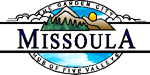 City of Missoula ~ Energy Conservation and Sustainability Educator
Greenhouse Gas accounting and reporting

Uses ICLEI's ClearPath Tool as the foundation

Energy and utility tracking and reporting

Utilizes the FacilityDude Utility Trac Plus application

Interfaces with ADAPT, the cross-sector collaborative working on energy conservation, sustainability and climate change on a community-wide scale
Interfaces with MASC on the Zero Carbon Buildings Challenge

Explores challenges between the City of Missoula, University of Montana and USDA Forest Service Region 1

Researches and presents policy considerations

Topics include green building or high performance building standards, anti-idling or other sustainable transportation concepts, cradle-to-grave sustainable procurement

Integrates energy conservation and climate change into employee and organizational culture and structure
National Wildlife Foundation ~ Wildlife Habitat and Sustainability Educator
Community Wildlife Habitat Certification (80% of member's time)

Helping to develop a multi-year plan to achieve Community Wildlife Habitat certification and establish benchmarks to assess success, including specific goals for initial year of project work
Provides presentations to and seeks input from potential partners and new participants/volunteers at large community venues, workshops, informal events, and individual meetings
Provides outreach at community events: tabling, sharing resources, recruiting volunteers
Recruits funding partners

Eco-Schools USA Education and Outreach activities (20% of member's time)

Collects information about existing Eco-Schools in Montana and identify opportunities to expand program in the state
Provides support for existing Eco-Schools, e.g. recruiting and training volunteers, achieving program goals, seeking recognition through Eco-School awards, and researching grant and other funding opportunities
University of Montana ~ Energy Conservation and Sustainability Educator
With the support and guidance of UM's sustainability coordinator and energy manager, this Energy Corps member:
Builds relationships across campus that enable effective education and outreach.
S/he conducts a campus-wide plug and process load inventory, including an inventory of non-centralized server spaces, desktop printers, personal refrigerators, heaters, and more.
In addition to collecting critical data on current plug loads and existing conditions, s/he engages with building occupants to publish and share this information. Data collected will inform energy conservation strategies (behavior change and individual-scale) that can be implemented in addition to large-scale infrastructure improvements.
---
Helena, MT
Alternative Energy Resource Organization ~ Clean Energy Educator

This Energy Corps member helps make clean energy more accessible to Montanans by providing Montana-based conservation, energy efficiency, and renewable energy information, as well as available local, state, and national funding mechanisms, in one easily accessible, user-friendly online resource and community presentations. The member conducts research, collaborates with statewide partners, develops a resource manual, and organizes community clean energy tours around the state.

Department of Environmental Quality ~ Smart Schools Coordinator
Targets schools to enroll in Smart School challenges
Provides onsite assistance and delivers educational presentations to school management, teachers and students on energy efficiency, resource management, chemical use and indoor air quality
Conducts baseline assessments of school energy use
Assists schools with navigating the energy performance contract process
Distributes ideas and materials to school partners
Provides professional presentations to a multitude of audiences for Smart School initiatives

State Energy Office, Department of Environmental Quality ~ Energy Data Analyst (60%) / Energy Code Educator (40%)
Uses energy software to input, manipulate and analyze data to output reports and graphs of government buildings' utility use.
Develops and distributes education and outreach materials to interested parties on the topic of code compliance. Delivery methods include hard copy, electric, or in-person.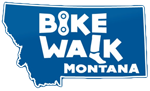 BikeWalk Montana ~ Alternative Transportation Educator
Conducts education and outreach relating to safe walking and bicycling
Organizes and assists in hosting the BWMT Annual Summit in the Spring of 2016
Assists with the statewide Commuter Challenge coming up in May 2016
Develops promotional and educational materials for BWMT
Updates website content, social media, and publish monthly newsletters
Increases BWMT stakeholder outreach
Researches/identifies grant opportunities for BWMT projects
Assists with integrating Bike Walk Helena as a program of Bike Walk Montana

Department of Environmental Quality ~ Energy Educator
Assists in public information and outreach efforts regarding both the DEQ's involvement in the Clean Power Plan and Montana Environmental Policy Act projects
Helps publicize energy conservation and renewable energy work being done by other Energy Corps host sites, specifically through the Energy & Pollution Prevention news
Develops project profiles and success stories for the Public Buildings Program
Assists with editing and posting updates to the Renewable Energy Programs, such as the Alternative Energy Revolving Loan Program
Assists in developing materials and educational assistance to improve Energy Code compliance in Montana, including web updates and presentations
Assists in administrative support for final rulemaking documents and other support material for the Energy Assurance Plan and Its Operations Plan
Assists in producing and editing the Energy & Pollution Prevention (E&PP) News, an email newsletter distributed approximately one day per week
Assists in general preparation for the Harvesting Clean Energy Conference in Billings, in September of 2015, of which DEQ is a sponsor
Assists in editing and web posting of the History of Energy in Montana, a new sub-website within E&PP Bureau
---
Butte, MT

National Center for Appropriate Technology ~ Sustainable Agriculture Educator/Researcher
Building greater climate resilience into the agriculture sector begins with better understanding of the likely added risks and vulnerabilities the sector will face from climate change. There are technologies and management systems that can make agriculture more resilient to risks from climate variability. The strategies and technologies that make more efficient use of inputs can reduce greenhouse gas emissions and can have real cost-savings for producers. This Energy Corps member is responsible for completing research and writing tasks focusing on climate resiliency in agriculture and innovative greenhouse technologies. Of the two topics greater emphasis is placed on the climate resiliency research. The member also delivers school presentations in the Butte community on sustainability related topics and conducts additional research on related energy topics.
---
Havre, MT

Montana State University Northern Bio-Energy Center ~ Energy and Bio-Energy Educator
Assists the Director in developing a summer "science" camp for K-12, to be delivered in June of 2016
Develops program content based on bio-energy/bio fuels
Collaborates with Box Elder and Rocky Boy schools to coordinate summer activities
Collaborates with Boys and Girls Club to arrange June 2015 participation
Assists Director in writing fundraising requests to local grant sources
Outreach and Educational events
Participates in ABC biodiesel learning seminars as requested by community and K-12 schools
Performs tours of the Bio-Energy Center and activities as requested
Participates in Techno Expo as well as SIFE (Students in Free Enterprise), and science fair education opportunities
Conducts a research project involving Camelina and woody biomass sources used for bio-based jet fuel
Implements research plan as outlined by Senior Research staff at Center
Presents findings once experiments have been successfully conducted
Develops report of findings
Presents findings at peer reviewed conferences
Publishes findings
---
Red Lodge, MT

City of Red Lodge ~ Sustainability Educator
Solar Arrays for City Buildings (primary activity)
Goal: To potentially reduce energy costs for City buildings
Researches historic electricity costs for City facilities
Inventories available rooftop space for solar PV systems and estimate total power production capacity of different PV systems
Provides support to engineers and architects as the appropriate PV system is selected and structural analysis is conducted
Conducts cost benefit analysis for PV system and assist in identifying financing mechanisms, including tax incentives to offset the cost of the project
Recommends modifications to the City code for the design of future city buildings in order to make roofs solar ready
LED Lighting for City streets (primary activity)
Goal: To potentially save energy and reduce costs to the City, reduce direct and reflecting light to the sky and improve nighttime visibility and safety
Updates inventory of city streetlights and create map; rate, watts, type of pole, type of lights, location, etc.
Calculates costs for various types of LED street light fixtures
Investigates alternative electric lighting service delivery options, including the downtown area, and potential removal of selected lighting in residential neighborhoods
Expansion of community recycling operations (primary activity)
Goal: To increase the awareness of the importance to recycle household goods, including electronics, and to increase revenues by expanding the City's recycling activities
Documents existing recycling activities for the City conducted at Beartooth Industries; types of materials, amounts, income generated and facility equipment and overall structure
Develops a community education and logistics program with goals to expand geographic coverage, amount of material recycled and types of material recycled. Include a school-based component.
Determines logistics of providing year-round electronics waste recycling at Beartooth Industries in
cooperation with REWIND (Recycle Electronic Waste Into New Devices)
Researches certified electronic waste recyclers and develop process for pick up and disposal of electronic
waste
Determines feasibility of recycling expansion in City parks and downtown area
LED Retrofit for City building operations (secondary activity)
Goal: To potentially reduce energy costs for City buildings
Conducts inventory of City owned light fixtures in all buildings
Calculates energy savings for LED fixtures
Calculates maintenance costs and savings for LED fixtures
Identifies financing mechanisms to offset project costs
Establishment of Electric Vehicle Charging Station (secondary activity)
Goal: To create an electric vehicle charging station in the Red Lodge area in order to attract electric motor
vehicle travelers
Researches electric vehicle charging station systems and options for obtaining free charging equipment
Documents installation costs including hardscape alterations, conduit to wall connectors, core drilling
and trenching and labor
Outlines criteria for a successful site and recommend the location of two potential sites
Coordinates installation if schedule allows
---
Billings, MT

Billings TrailNet ~ Active Transportation Educator
2016 Commuter Challenge Project
Coordinates 2016 Commuter Challenge planning meetings with multiple community stakeholders
Encourages participation in the 2016 Commuter Challenge by recruiting people to sign up, contacting participants weekly to keep them informed of progress, and teacher a commuter workshop at a local business
Develops promotional Commuter Challenge material
Informs Billings community of bicycle and pedestrian-related issues as well as trail development and biking and walking infrastructure and activities
Writes monthly blogs and newsletter stories
Posts on social media and other methods of outreach
Facilitates a 12-week Active Living Everyday Class to help participants become more active
Updates online trail maps as trails and bikeways are developed, to inform users of safe accessible routes, which will also encourage more biking and walking
Assists in implementing and promoting a bicycling and driving etiquette campaign, which will encourage more biking and walking when behaviors and attitudes between drivers and people using non-motorized transportation are improved
Presents information to at least 12 community groups about how to share roads and trails safely and courteously with other users
Encourages bicycling and walking by helping to organize biking and walking events
---
West Glacier, MT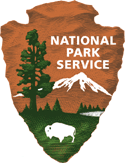 Crown of the Continent Research Learning Center(CCRLC) ~ Sustainability Educator
This Glacier National Park based member is an individual who can focus their full-time energy towards developing a community sustainability plan. The Energy Corps (EC) member will develop a community-based plan to create a sustainable culture in Glacier National Park, involving visitors and the surrounding neighborhood. The member will work closely both with the park Green Team and the Environmental Management System Team to set specific priority objectives, targets and tasks. The plan will address recycling, energy efficiency, transportation, and night skies. The member will provide education and training to park staff, partners, and visitors, so everyone will understand the value of implementing green and sustainable practices in all possible operations.