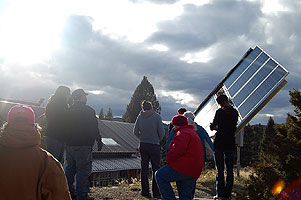 The Energy Corps AmeriCorps project is an initiative of the National Center for Appropriate Technology (NCAT) in cooperation with The Corporation for National and Community Service. The Energy Corps was created to address unmet community energy needs by promoting sustainable energy consumption and education, fostering community sustainability and helping to mitigate the effects of global climate change.
Serving as an Energy Corps member provides a unique opportunity to help others while gaining new skills and experiences. The Energy Corps provides hands-on training and skills development to help design a green-collar workforce capable of meeting the needs of the future.
Hands-on Energy Assistance
To achieve direct cost savings for residents and communities as well as greenhouse gas emissions reductions, Energy Corps members provide service in communities with project partners such as weatherization agencies, non-profit organizations, local governments, and low-income housing groups to provide hands-on energy efficiency and alternative energy assistance. These activities may include things such as installing energy conservation and weatherization measures, conducting energy assessments, helping to design, install and maintain a variety of sustainable energy systems, and implementing green practices.
Energy Education and Outreach
Through various community outreach workshops, trainings, meetings and events, the Energy Corps works to educate individuals, youth and community groups about saving energy and money in their homes. Several energy savings strategies are available and can be easily implemented at little or no cost by individual residents armed with the correct knowledge and information. The overarching goal of education and outreach activities is to inform and encourage individuals, families and communities to take proactive measures to address energy consumption and reduce their carbon footprints.
Community Energy Planning and Organizing
In order to retain sustainability, momentum and action in the communities in which they are placed, Energy Corps members form energy action networks and organize communities to develop sustainable strategic energy plans. These activities may include things such as developing community energy task forces, identifying the role of renewable energy opportunities within a community, launching energy efficiency or renewable energy initiatives within a community and identifying community energy needs and support networks, among other activities.