2016 Texas Locations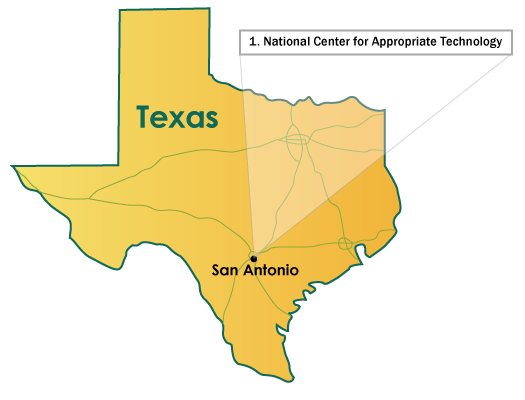 San Antonio, TX
1. National Center for Appropriate Technology (NCAT)
Provide efficiency and renewable energy education and outreach to residents, communities, schools and other non-profit organizations in South Texas.
Support and advance the energy-related goals of San Antonio's new sustainability plan, the Mission Verde Initiative, especially as these goals relate to low-income people.
Form collaborations with local non-profit organizations, community action agencies, local governments, and energy service organizations.
Assist with outreach, develop promotional materials, and coordinate information-gathering and information-sharing activities supporting renewable energy and energy efficiency in South Texas.
Recruit and train volunteers to conduct community energy activities.
Provide education and outreach related to agricultural energy usage and renewable energy opportunities.