2015 Montana Host Sites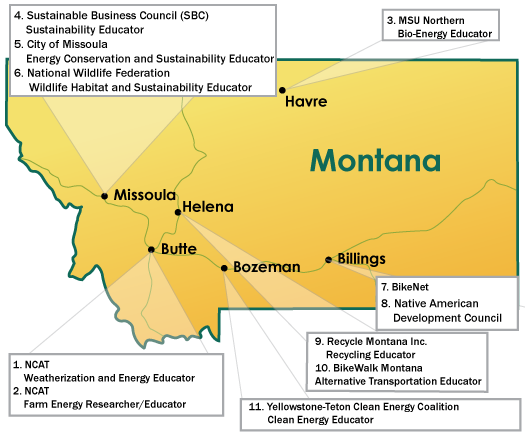 Butte, MT

1. National Center for Appropriate Technology (NCAT) ~ Weatherization and Energy Educator → APPLY
Install light weatherization kits in homes around Montana

Member will be based in Butte, but will travel extensively within Montana for approximately five months of their term of service

Develop and conduct energy efficiency education events in communities around the state

Events will occur at senior centers and other community organizations where low income or disadvantaged persons will likely be in attendance.

Develop and conduct renewable energy seminars

These trainings will be held in local community settings such as libraries, local government buildings, schools, and at fairs. The focus of these trainings will be the opportunities and practicalities of solar and wind technologies applicable to residential customers.

2. Butte-Silver Bow ~ Recycling and Waste Reduction Educator → APPLY
Assist in the development and implementation of an improved residential waste collection system
Conduct a cost-benefit analysis of several recycling infrastructure improvements/changes
Provide community education and outreach to communicate changes in recycling and waste services
Identify and assist in the implementation of several energy conservation projects in city/county government facilities
---
Havre, MT
Position description coming soon!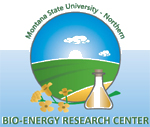 4. Montana State University Northern Bio-Energy Center ~ Bio-Energy Educator → APPLY
Assist the Director in developing a summer "science" camp for K-12, to be delivered in June of 2015

Develop program content based on bio-energy/bio fuels
Collaborate with Box Elder and Rocky Boy schools to coordinate summer activities
Collaborate with Boys and Girls Club to arrange June 2015 participation
Assist Director in writing fundraising requests to local grant sources

Outreach and Educational events

Participate in ABC biodiesel learning seminars as requested by community and K-12 schools
Perform tours of the Bio-Energy Center and activities as requested
Participate in Techno Expo as well as SIFE (Students in Free Enterprise), and science fair education opportunities

Conduct a research project involving Camelina and woody biomass sources used for bio-based jet fuel

Implement research plan as outlined by Senior Research staff at Center
Present findings once experiments have been successfully conducted
Develop report of findings
Present findings at peer reviewed conferences
Publish findings
---
Missoula, MT

5. Sustainable Business Council (SBC) ~ Sustainability Educator → APPLY
Help to develop and implement themes and messaging for two Buy Local campaigns that will reach large audiences through newsletters, social media, tabling events, newspapers, and radio stations.

Buy Local and Sustainable Holiday Campaign
Buy Local Food Campaign
Gather and analyze pre- and post-campaign surveys to evaluate results

Collaboratively coordinate/plan all aspects of nine monthly educational events and one large annual lecture event

Develop program theme
Book speakers/panelists
Facilitate outreach via press releases, social media, etc.
Arrange event logistics
Solicit evaluations and other feedback related to events

Develop and pilot sustainability news reporting program

Attend local civic meetings, and research local, state, and national policies
Create educational and briefing materials and news updates on a monthly basis via SBC website, newsletter and social media
Solicit evaluations and other feedback to evaluate and refine program effectiveness
Establish program systems and protocols to facilitate continuation by interns in the future

Collaboratively identify and develop strategies for disseminating portions of an existing sustainability training program to new audiences online and via digital media

Research and update existing content
Develop infographics, short videos, webinars, web forms, and other online and interactive media, according to skills and interests
Pilot among small organizations to assess their sustainability impacts and set improvement goals
Evaluate effectiveness of improved program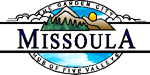 6. City of Missoula ~ Energy Conservation and Sustainability Educator → APPLY
Greenhouse Gas accounting and reporting

Most likely using ICLEI's ClearPath Tool as the foundation

Energy and utility tracking and reporting

Utilizing the FacilityDude Utility Trac Plus application

Interfacing with ADAPT, the cross-sector collaborative working on energy conservation, sustainability and climate change on a community-wide scale
Interfacing with MASC on the Zero Carbon Buildings Challenge

Challenge between the City of Missoula, University of Montana and USDA Forest Service Region 1

Research and presenting policy considerations

Topics to include green building or high performance building standards, anti-idling or other sustainable transportation concepts, cradle-to-grave sustainable procurement

Integrating energy conservation and climate change into employee and organizational culture and structure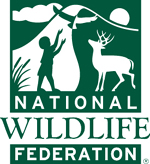 7. National Wildlife Foundation ~ Wildlife Habitat and Sustainability Educator → APPLY
Community Wildlife Habitat Certification (80% of member's time)

Develop multi-year plan to achieve Community Wildlife Habitat certification and establish benchmarks to assess success, including specific goals for initial year of project work
Provide presentations to and seek input from potential partners and new participants/volunteers at large community venues, workshops, informal events, and individual meetings
Provide outreach at community events: tabling, sharing resources, recruiting volunteers
Recruit funding partners

Eco-Schools USA Education and Outreach activities (20% of member's time)

Collect information about existing Eco-Schools in Montana and identify opportunities to expand program in the state
Provide support for existing Eco-Schools, e.g. recruiting and training volunteers, achieving program goals, seeking recognition through Eco-School awards, and researching grant and other funding opportunities
---
Billings, MT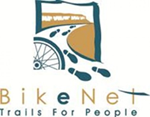 8. BikeNet ~ Educator → APPLY
Research programs that have resulted in increased walk/bike/bus rates for other communities

Identify comparable sized communities
Pilot those programs in the Billings community
Develop educational/motivational programs and interact with school/community events to encourage residents to walk and bike for transportation

Conduct walk/bike traffic safety skill training for community members
Facilitate Active Living Everyday Class Sessions

Promote Active Living Everyday Classes via social media, newsletters, flyers, emails, and at special events

Develop partnerships with local health clubs and gyms

Encourage members to use active transportation to and from their work out sites

Establish a group of community organizations to explore the creation of a "cyclovia" or "summer street" bike walk event
Analyze the economic and social benefits of a bicycle friendly community and its impact on the reduction of poverty and unemployment
Develop a pilot bike share system
Develop promotion and sponsorship of social marketing messages that relate to partner goals in health and wellness
Evaluate non-profit programs and projects for sustainability
---
Helena, MT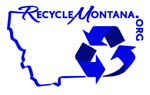 9. Recycle Montana Inc. ~ Educator → APPLY
Assist service organizations working to provide recycling opportunities

Audiences served include clients, schools and local governments
Tasks include assessing organization needs, provision of technical assistance, provision of education at school and community events

Recycling presentations

Audiences include K-12 schools, public and private higher education institutions, and community in conjunction with local and tribal governments.

Assist Recycle Montana staff in utilizing existing educational resources for recycling, establishing local guides for recycling, and develop best practices for recycling material that can be presented with school and community presentations and serve as a technical resource for communities, service organizations, and recyclers.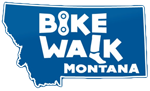 10. BikeWalk Montana ~ Alternative Transportation Educator → APPLY
Conduct education and outreach relating to safe walking and cycling
Organize and assist in hosting the BWMT Annual Summit in the Spring of 2015
Assist with the BWMT First Annual Photo Contest
Develop promotional and educational materials for BWMT
Update website content, social media, and publish monthly newsletters
Increase membership of the BWMT organization
Research/identify grant opportunities
Assist with development of organizational capacity

Membership development strategies based on best practices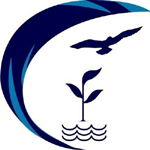 11. Department of Environmental Quality ~ SMART Schools Educator → APPLY
Target schools to enroll in SMART School challenges
Provide onsite assistance to school management, teachers and students on matters of energy efficiency, resource management, chemical use, indoor air quality, and other health and energy projects
Conduct baseline assessments of school energy use
Assist schools with navigating the energy performance contract process

Distribution of ideas and materials to school partners

Provide professional presentations to a multitude of audiences for SMART School initiatives
---
Bozeman, MT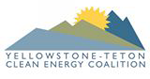 12. Yellowstone-Teton Clean Energy Coalition ~ Clean Energy Educator → APPLY
Expand Sustainability Series Project as well as their Energy Literacy curriculum

Organize and host monthly workshops around Montana
Provide citizens with resources to make more sustainable decisions in their everyday lives

Implement "Alternative Fuels in Transportation" curriculum

Collaborate with local schools and organizations to present lessons in grades 3-12
Host teacher-learning workshops to teach teachers how to use the curriculum in their classrooms