2014 Arkansas Locations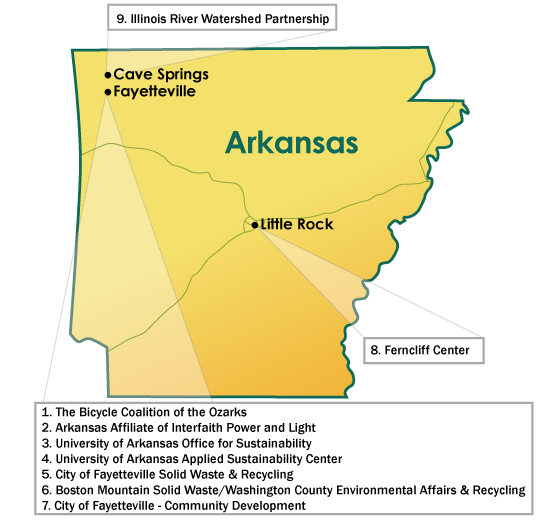 Fayetteville

1. The Bicycle Coalition of the Ozarks
The Bicycle Coalition of the Ozarks is a 501(c)3 non-profit working to create a more bicycle-friendly Northwest Arkansas through Education & advocacy for bicycle-friendly infrastructure. Changing Gears is an initiative of BCO board member Brittny Horn to take abandoned and donated bicycles, service them, and get them to the homeless population in South Fayetteville along with bike safety and basic bike maintenance instruction.

2. Arkansas Affiliate of Interfaith Power and Light
Arkansas Affiliate of Interfaith Power and Light includes individuals and participating congregations who share a concern for the earth's environment from a unique, nonpartisan, theological perspective. We provide outreach through energy efficiency improvement projects at houses of worship and community buildings in low-income areas. We increase awareness of energy and environmental issues through presentations to schools, houses of worship, summer camps, retirement homes, luncheons with decision makers, conferences, and online media. We encourage houses of worship and individuals to track their energy use through online calculators and tracking services.

3. University of Arkansas Office for Sustainability
The management of atmospheric carbon increasingly appears to be the defining issue of our times. Probably more than any other issue on the horizon, our success in managing this challenge will define the quality of life for future generations. Even the favored term climate change seems inadequate to conveying the immensity of the emerging problem. We're witnessing the unfolding of a climate crisis, and urgent action will be needed to successfully address the problems that now seem imminent. The Office for Campus Sustainability exists to help mollify this crisis. We are committed to zero-waste, carbon neutrality, and community engagement initiatives.
4. University of Arkansas Applied Sustainability Center
The mission of the Applied Sustainability Center is to accelerate learning about sustainability and expand the commitment to sustainable practices in communities and organizations throughout the state of Arkansas.

5. City of Fayetteville Solid Waste & Recycling
The Solid Waste and Recycling Division provides for the collection and processing of commercial and residential waste for the City of Fayetteville. Composting and Recycling programs are operated jointly to divert the maximum amount of material from the landfill to productive use.
6. Boston Mountain Solid Waste/Washington County Environmental Affairs & Recycling
The goal of the Washington County Environmental Affairs & Recycling Office is to:
Promote the proper disposal of solid waste
Provide assistance for cleaning illegal dumps
Enforce stormwater regulations
Provide environmental education to all ages of the County
7. City of Fayetteville - Community Development
The Community Development Program is designed to strengthen the physical, social and economic conditions of the area with a view toward making it a more healthful, prosperous, and gratifying place to live. This includes the administration of Community Development Block Grant projects, including Housing Rehabilitation and Transportation programs, and the monitoring of non-profit grant sub-recipients.
Little Rock

8. Ferncliff Center
Ferncliff Center is a camp and retreat facility with a focus on Hospitality, Sustainability and Outreach. The 1200 acre campus, located just 10 miles west of Little Rock, offers an array of summer camps for 850+ youth per summer and a variety of housing options for adults from hotel rooms to retreat house to cabins. A wide variety of local, regional and national church and non-profit groups use Ferncliff for their meetings, workshops, conferences and retreats. Ferncliff creates positive change in the world by opening eyes, minds and hearts to God's transforming love.

9. Illinois River Watershed Partnership
The Illinois River Watershed Partnership (IRWP) is a non-profit watershed organization that works to improve the integrity of the Illinois River through public education and community outreach, water quality monitoring, and the implementation of conservation and restoration practices throughout the watershed.
The Illinois River starts from an underground spring located in Hogeye, AR and travels north into the metropolitan area of Northwest Arkansas, where the headwater streams drain into the main stem of the Illinois River, which then travels westward into Oklahoma, eventually draining into Lake Tenkiller, OK. With over 1,200 miles along pastureland and 200 miles of urban streams, the Illinois River Watershed is a unique "reverse" watershed. Part of the IRWP's mission is to promote a positive pro-active approach to address watershed concerns through many projects, partnerships and community involvement.